This September holiday celebrates grandparents. The holiday has officially been recognized since 1978 and in other countries on various days throughout the year.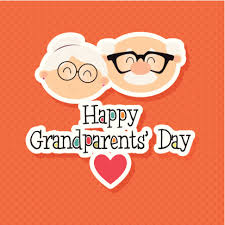 Celebrate Your Grandparents!
This holiday was not invented to sell flowers and cards but for other important purposes of National Grantparents Day:
To honor grandparents.
To give grandparents an opportunity to show love for their children's children.
To help children become aware of the strength, information and guidance older people can offer.
Grandparents Day was initiated at the grassroots level by a a West Virginian women, Marian Lucille Herndon McQuade. Mrs. McQuade and her husband, Joseph had 15 children, 43 grandchildren, 10 great-grandchildren, and one great-great grandchild. Mrs. McQuade stated,
"I do not hold grandparents to be glorified babysitters but rather as parents' surrogates who bring love, a continuance of generational values, and a sense of the child's worth to the integrity of the family... I was brought up by a grandparent. My parents both worked outside the home for most of my life. They needed to for economic reasons. It was my grandmother who nurtured me, gave me a sense of worth and molded in many ways the course my life was to take. My grandmother was my role model, my mentor, and my confidant."
Family Day
Mrs. McQuade wanted Grandparents Day to be a family day. She envisioned families enjoying small, personal gatherings, a family reunion, or participating in community events. 
On a societal level, National Grandparents Day gives us a chance to publicly affirm the identity and importance of grandparents or a grandparent, that they do play a vital role in families. It is also a day of giving – giving of self; sharing hopes, dreams, and values; and setting an example and advocating for future generations.
There are a few goals and benefits to keep in mind when planning Grandparents Day:
Create an environment where children can show their appreciation and love to their grandparents and Grandparents can show their appreciation and love for their grandchildren.
Creating memories is important, so create a fun and memorable experience for everyone.
Give your grandparents validation in their role as a grandparent. Grandparents need to know they are making a difference in the lives of the younger generations.
Allowing grandparents to share some of their life experiences with their grandchildren allows them to feel they are leaving a legacy.
Help children break down the sterotypes often held against older and aging adults and show them that older people have many strengths they can share.
Many schools have a Grandparents Day where the grandparents can visit their grandchildren's classroom and share this part of their world together.
There are many wonderful experiences to have with your grandparents or grandchild. Get involved and create memories that will last forever! 
Grandparents Day Song
Let your grandparents share their wisdom, guidance and memories by asking them some questions.
Questions for Grandparents
When and where were you born?
Do you have any siblings? What are their names? What do you remember about them growing up?
What do you remember about your parents? Your grandparents?
What were your favorite games and hobbies? Did you play any sports? What other things did you do for fun?
Did you have any pets? What were their names?
What was your favorite thing about school? Who was your favorite teacher? What was your favorite subject?
Did you live in a house or an apartment? What was your room like?
What did you want to be when you grew up?
What were the most memorable world events while you were growing up?
Who were your heroes and role models when you were young? How did you dress as a teenager?
Did you have a favorite movie, TV show and song?
Did you go to college? If yes, what did you study? If no, what did you do? Did you wish you had the opportunity to go to college?
What was your first job? What was your favorite job?
How did you meet your spouse? How old were you when you got engaged/married? What was your wedding like?
How many children do you have? What were they like growing up?
Do you have a favorite book or poem? Why?
Do you know the origin or stories of your family name?
What are the most rewarding and most difficult things about growing older?
What advice would you pass along to your grandchildren?
What do you want your children and grandchildren to remember about you?
Hellokids.com has many fun activities you could do together with your grandparents or grandchildren. Discover a diverse selection of free coloring pages, learn how to draw with easy tutorials, create wonderful crafts together, watch videos, read online stories or play games. Hellokids has something for anyone and for any age. Check out Hellokids!