3D Easter Egg Beaded board
It's very easy to make an ironing bead 3D Easter eggs. To find out how, watch the video tutorial. Hellokids offers you a 3D version of Easter eggs made with colorful polka dots but you can create the patterns of your choice, just make sure you respect the outlines of the shapes.
Equipment required:
a kit of iron beads
Hama beads of different colors
tweezers
iron
a sheet of parchment paper
a big book
Time: 20 minutes
Level of difficulty: from 8 years. The Ironing step must be done by an adult.
Steps to make an Easter egg 3D beads
Ask an adult to plug the iron and check that the steam function is turned off.
Install the mounting board on a flat surface and place loose beads in the compartments.
Then print templates at the bottom of the page. The required number of beads in height and width is a registered model. To save time, you can easily achieve the 2 sides of the egg on the same table with pins.
Start by making the first egg following the template, take a bead with the tweezers and place it on one of the table points at the bottom left, and so on.
When you have completed the 2 sides of the Easter Egg, place the parchment paper on the 2 shapes and ask an adult to iron to fuse the beads together. Ironing the board for about 1 minute in circular movements. Then return the two flip the forms and iron in the same manner on the other side.
Immediately place the 2 sides of the Easter egg in a big book for 2 or 3 minutes to prevent the eggs from curling while cooling. Meanwhile you can put away your project supplies.
Finally, take the 2 sides of the egg and gently join by sliding one in the other, as you can see on the video.
And voilá, this is how to get a beautiful 3D Bead board Easter Egg. You can make several in to decorate the Easter table.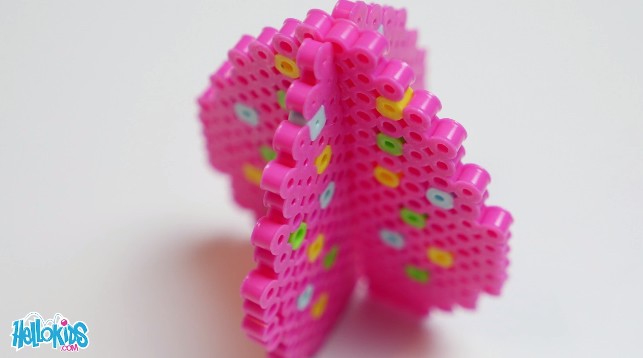 Your comments
1 vote(s) - Average rating 4/5
Tuesday June, 23, 2015 at 04:54 AM
I love your craft . do you like your craft.
View other comments