Build your black and red ladybug costume with the help of your mom and create a lovely bug. This ladybug costume is super cute!
This ladybug costume is very easy to do without spending a dime. Just use old t-shirts and tights in your closets from the house and recycled pieces of cardboard. In addition, you and your mom will share a very nice creative moment and you will be proud to wear the prettiest bug costume disguise at the next party organized by your school, for a birthday, Carnival or Halloween. Take your scissors, watch the tutorial video and manufacture a beautiful ladybug costume!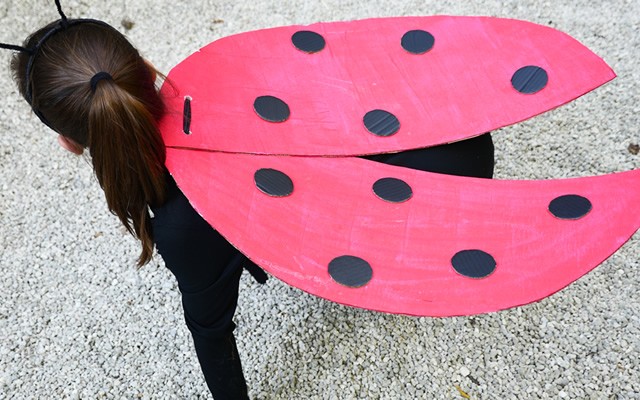 To make a ladybug costume requires:
A large piece of cardboard
red paint and black paint
a large brush or a small paint roller
a black T-shirt with long sleeves
a pair of leggings or a pair of black tights
A black satin ribbon about 1 m
a simple dark headband
2 black pipe cleaners
2 small red pompom balls (beads, cotton pompon ...)
Time: 30 minutes + 1 hour drying time for painting
Level of difficulty: Ask a parent for help and it is quite easy to make.
How to make a ladybug costume?
Let's start by making the wings
Print the model that is at the bottom of the page to draw the wings of the ladybug on the large piece of cardboard.
Draw two large wings respecting the child's height then cut out.
Spreading paint with the brush or roller throughout the visible surface of the wings and let dry.
Then the black dots symbolize the marks of the ladybug. Using a glass draw about 12 circles on the remaining card then paint them black or use a black sheet of paper as we show in the video tutorial.
Glue black circles on the wings. If you make two separate wings you must stick to each other before moving on to the next step.
Make 2 small holes with scissor high up on the wings to be tied together with black satin ribbon. This ribbon will help to keep the wings on the back and tying it around the neck or crossing the chest. The wings of the ladybug is ready!
Now make the ladybug antennas
Take the 2 black pipe cleaners and fix the red balls at one end.
Then wrap the other end on the headband.
Add fun makeup tip: a touch of red blush and freckles on the face to complete the disguise! Now fly away. 
Ladybug, lady
Ladybug, lady
Beast God
Ladybug, lady
Fly to heaven
Small red dot
She moves
Small white dot
She waits
Small black dot
Ladybug, goodbye.