Maracas - Fun to rattle and shake
Maracas pronounced 'ma-ra-KAH' are also called rumba shakers. This hand percussion instrument is fun to rattle and shake to make music. The Maracas are fun to make for birthday celebrations, parades, Chinese New Year and other holidays.
These easy to make rumba shakers will be a fun craft for kids to make and play with. Watch the step by step video to see how simple it really is to make a Maraca.
Time: 15 minutes
Level of difficulty: Easy and fun
Materials needed: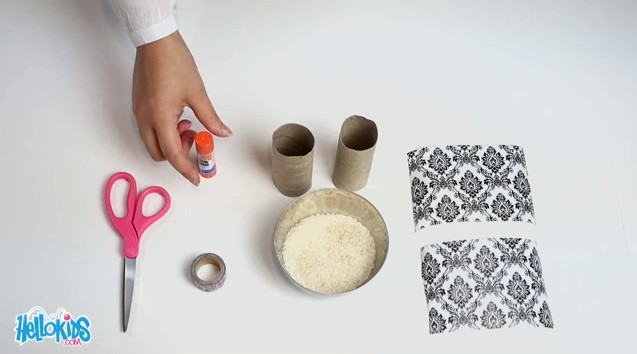 Paper towel roll (cut in 1/2)
Rice or dried beans - 1/2 Cup
Decorative tape
Decorative paper
Scissors
Glue stick
How to make musical maracas:
Cut the paper towel in half.
Cut the decorative paper to each size of the 1/2 of paper towel roll.
Glue the decorative paper on the back side and adhere to the paper towel roll.
Take each covered paper towel roll and flatten together one end and secure with decorative tape. This forms a cup to hold the rice or beans.
Fill your Maraca shaker with some rice or dried beans.
Finally, close the open side of the maracas, in the opposite direction you secured the other end. Use the decorative tape to seal them together.
You are now ready to shake, shake, skake! If you enjoy making music check out the fun Drum, Rattle-Drum and Confetti Cannon craft ideas by clicking birthday! Your celebration will be fantastic rattling fun!