SpongeBob Sandwich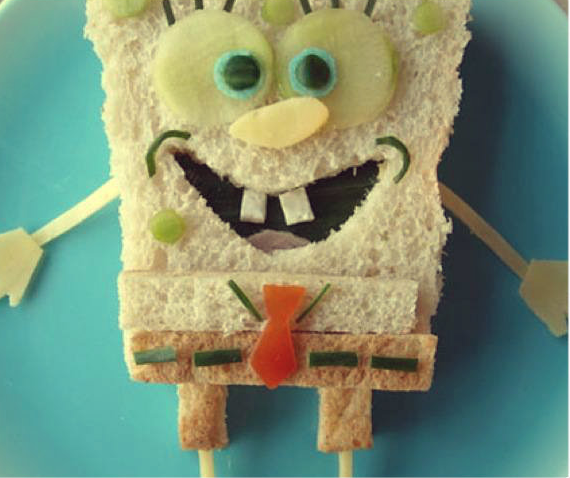 This SpongeBob sandwich is a healthy and nutritious choice for children and easy to prepare. You can prepare this for a school lunch or for a fun lunch at home with friends or family.
About this recipe
Preparation time :

10 min

Yield :

Healthy and Nutritious SpongeBob Sandwich
Ingredients : Healthy and Nutritious SpongeBob Sandwich
Sandwich Bread Slices

:

2

Sliced Turkey

:

1

Cucumber

Cheese

Cherry Tomatoes

Chives

:

2
Healthy and Nutritious SpongeBob Sandwich, Recipe
Giving shape to the sandwich
Cut the crust of the bread slices with a knife, and set aside some of the bread ends.
Then in one of the slices, cut the mouth with a sharp knife.
Add the pieces of bread for the legs and SpongeBob pant waist.
Prepare and decorate the Sandwich
Completely cover the second slice of bread with slice of turkey and cover with the cut slice. The color touched the slice of turkey symbolizes the tongue.
Use pieces of bread on the lower part of the sandwich (waist) and 2 pieces down for the legs.
Cucumber: Cut 2 slices of cucumber same size and place on top for eyes. Cut 2 small circles out with the cucumber skin (darker green) with a knife to obtain 2 pupils and place them on the eyes.
Cheese: Cut 4 thin bands for the 2 arms and 2 legs and an oval for the nose. Then cut 2 hands, 2 large boxes for SpongeBob shoes and 2 rectangles for teeth. Add your pieces of cheese sandwich around SpongeBob.
Cherry tomatoes: Cut a cherry tomato in half and empty. The hardest part is left, cut a small tie. Placing tie over pants.
Chive: Cut the first blade of chives into 6 equal pieces and arrange them above the eyes for eyelashes (3 over each eye). Cut the other blade into 8 pieces: 2 for the neck of the T-shirt, 2 to highlight the smile of SpongeBob and the other 4 for the belt.
You get a tasty SpongeBob sandwich! Now are you hungry?