My Near-Death Adventures (99% True!) by Alison DeCamp
New Children's book - MY NEAR-DEATH ADVENTURES (99% True!)
Written by Alison DeCamp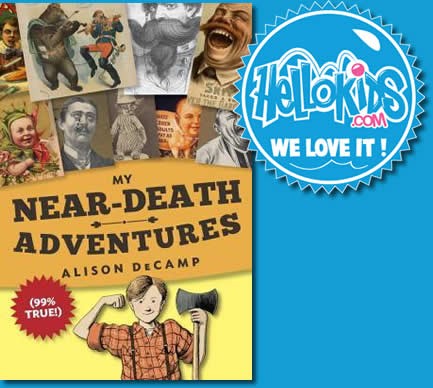 MY NEAR-DEATH ADVENTURES (99% TRUE)
It is 1895. Stan is on a mission to find his long-lost father in the logging camps of Michigan. And he's embellishing all of it in his stupendous scrapbook. 
There are many things that 11-year-old Stanley Slater would like to have in life, most of all, a father. But what if Stan's missing dad isn't "dearly departed" after all? Who better to find this absent hero/cowboy/outlaw than manly Stan himself? Unfortunately, Stan's fending off his impossible cousin Geri, evil Granny, and Mama's suitors like Cold-Blooded Killer Stinky Pete. If only he could join the River Drive, the most perilous adventure of all, where even a fellow's peavey is at risk.
It's a wild ride for Stan as he finds out about true manliness. But at least Stan has his scrapbook, full of 200 black-and-white 19th-century advertisements and photos, "augmented" with his commentary and doodles. 
Stan's tale will leave readers in stitches, but not the kind that require medical attention.
Book Debut: February 24, 2015
Where: This new children's book will be available at any independent book store and is already available for preorder at Barnes and Noble, Amazon and the Random House websites.
Who: Learn more about this talented author in the Hellokids.com Famous People page. In an interview Author Alison DeCamp will share when she began writing, tips on becoming an aspiring writer, her favorite authors and much more. To check out this informative interview with Alison DeCamp on Hellokids.com by clicking this link: Famous People and discover more reading and learning resources for your enjoyment such as other Reading lists for Grades K-5.