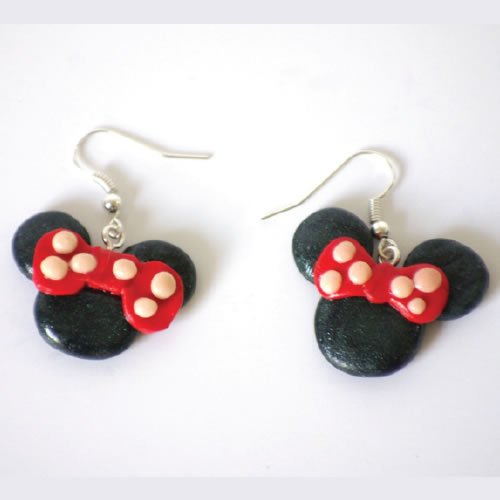 Materials needed 
Baking Dough (black, white, red)
Rolling pin
Parchment paper to roll the dough without it sticking
Knife to cut the dough
Fine brush
Glossy varnish
Glue
Small hooks/eye screws to attach the earring
Earring hooks or clips
Instructions :
Using your fingers, shape the dough and model the different elements of these earrings. Each of them includes: 
A big black ball for the head 
Two smaller black balls for the ears 
A small red ball for the bow 
Six tiny white balls for dots on the bow 
Flatten the head and ears and place them together. 
Roll out the red ball and cut a bow to place between the ears. make a small square to place in the middle of the bow. 
Decorate the bow with small white balls. 
Push the eye screw/hook between the ears and put in the oven (preheated to 230 ° F) for 30 minutes. 
Take out the earrings from the oven, let them cool and unscrew the hook that you have set. Put glue into the hole and tighten the hook. 
With the brush, apply the clear glossy varnish and wait until dry to hang loops. It's ready!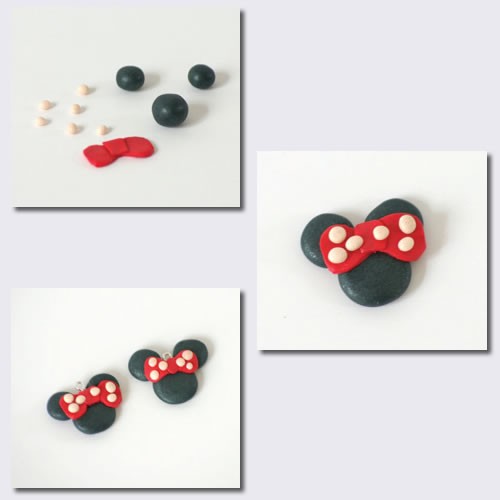 Find more fun Disney activities on Hellokids.com.