Winter Gingerbread Cookies
Winter Gingerbread Cookies
Winter Cookies
These beautiful cookies will make a wonderful display and a yummy holiday treat for the whole family! These decorated gingerbread cookies make great gifts for friends, neighbors and family!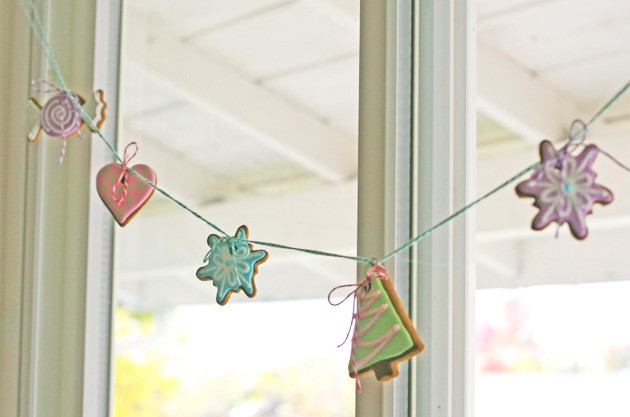 About this recipe
Preparation time :

1h

Cooking time :

30 min

Total duration :

1h 30 min

Yield :

biscuits des neiges
Ingredients : biscuits des neiges
Flour

:

6 cups

Ground Ginger

:

1 tablespoon

Nutmeg

:

1 tablespoon

Ground cinnamon

:

1 tablespoon

Clove

:

1

Ground Black Pepper

:

1/4 teaspoon

Butter

:

1 cup

Brown Sugar

:

1 cup

Honey

:

1 cup

Eggs

:

2

Vanilla Extract

:

1 teaspoon

Baking Powder

:

2 teaspoons

Confectionery Sugar

:

4 cups

Hot Water

:

6 Tablespoons

Meringue powder

:

4 tablespoons

Food colors

:

2 to 4 colors

Sprinkles and string

:

as needed
biscuits des neiges, Recipe
For spiced biscuits: 
In a large bowl, gently stir in flour, baking powder and all the spices.

In bowl, beat butter until smooth. Add brown sugar, molasses, egg and vanilla.

Gradually stir in the dry ingredients.

Divide dough into 3 pieces and flatten into round disk.

Place the dough in plastic wrap and let rest in refrigerator for at least 3 hours.

Preheat oven to 350 °.

On a lightly floured surface, roll the dough to the desired thickness. Cut into desired shape with cookie cutters.

Put the cookies on a well spaced baking sheet lined with parchment paper.

Make a hole in each cookie with a straw or a kitchen utensil adapted. Bake for 9-12 minutes, then cool completely.
For the icing:
Beat all ingredients (sugar, meringue powder and warm water) until a firm consistency. 
Spoon the thick white icing into bowls and add your food coloring. 
For each color of icing, using a pastry bag. 
Reserve a small amount of icing in the same color for the details of the decoration. To this add 1 tbsp of water and stir. Keep adding water until the desired consistency. 
It remains for you to decorate your cookies with patience and attention to detail, taking care not to mix the colors of frosting in the icing bags. Using a satin ribbon, create your gourmet garland.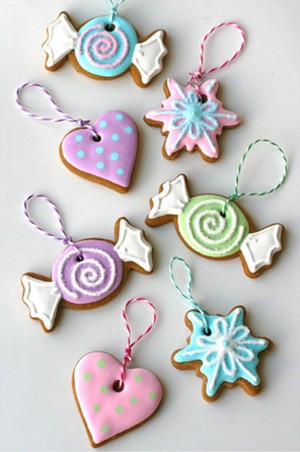 More creative recipes in recipe.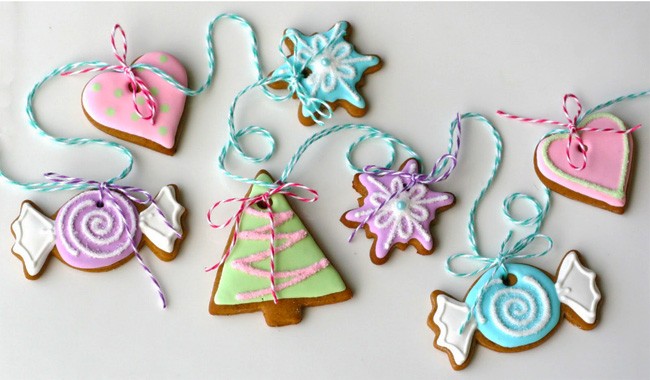 Your comments
1 vote(s) - Average rating 5/5
Tuesday December, 23, 2014 at 03:47 AM
Its recipes are fabulas
View other comments