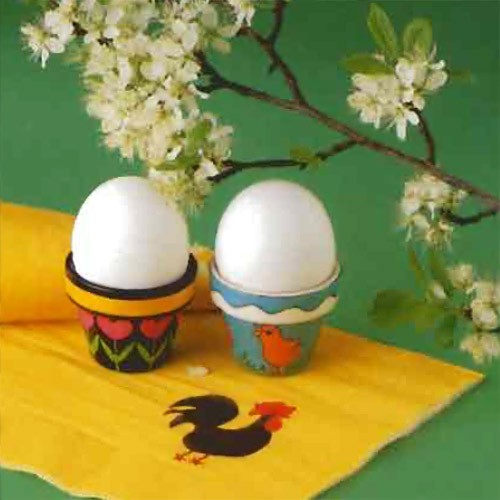 Painted Terracotta Pots
Old newspaper
Art apron to protect your clothing
Flower pots of assorted sizes but if you are putting a single egg inside then use (5 cm in diameter)
Acrylic paints (assorted colors)
Paint brush
Pencil
Scissors
Fine tip black felt pen
Clear varnish spray or Mod Podge
Cover your work surface with old newspapers and put on an apron. Before starting to paint, dip the crocks in the water for a few minutes. Thus, they absorb less paint.
Now select the background color and apply it with a brush. If you use light colors, apply a coat of white paint as a primer. The colors you use will then be much brighter. The primer dries very quickly, because the pot is very absorbent. When the primer is dry you can begin applying your colors.
To draw horizontal lines effortlessly and auxiliary lines for your designs, place a pencil on any object (see diagram below) and hold it with one hand while rotating the pot directly against the tip.
Using the fine tip felt pen you can outline your designs to make them stand out more if you choose.
If you want to use the template of Easter designs to decorate your pot you will need to print out the template and cut out the designs. Click on the icon template below and print. Use Mod Podge to glue your cut outs to the pot.
After you are finished with your design work, spray the pot with a clear varnish inside and out. Let dry.
The painted terracotta pots is a great activity for any holiday, birthday party or event. You can use the painted pots to fill with candy and other goodies, plant a flower or herb,or use as containers to hold pens and crayons.
There are so many uses and it is a wonderful gift idea too! Have a funtastic time!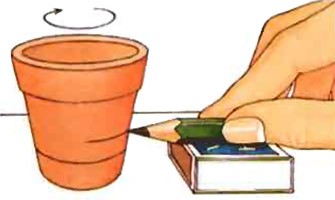 The terracotta pot, paints and mod podge can be found at Michael's Craft stores, Walmart, and other local stores. You may try looking for the pots at your local garden store.