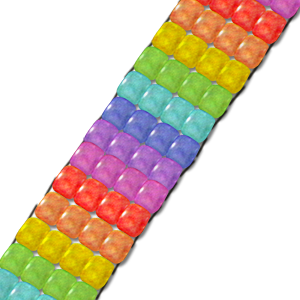 Material Necessary:
Plastic or Satin Thread
Assorted Colorful Beads
Bracelet Clasp
How to Weave a Bracelet:
Begins by cutting a long piece of wire (one meter), and then fold it in half lengthwise. Make sure that both ends are the same.
Then puts 4 red beads and maintain them in the middle of the wire, as in the image below:


Then puts 4 oranges beads on the right end of the thread and left end goes in the opposite direction, as shown in this picture:


Proceed in the same way for the following rows: in each case, four beads threaded on one end of the wire, and then return the other end in opposite direction in these same 4 4 beads.
Alternating colors in each row, to reproduce the colors of the rainbow, rainbow (red, orange, yellow, green, light blue, dark blue, purple, pink).



Continue like this until a sufficient length of strap is made to go around your wrist, repeating each time the same colors of beads. 
Once you arrived at the length you want, secure the thread to the clasp on each end of your bracelet (you can slide it over the thread, or tie a knot with another smaller piece of thread).

And voila, you now have a beautiful pearl bracelet with the colors of the rainbow. Congratulations! 
You can even offer this gorgeous bracelet to your friends or someone in your family. 
Once you have mastered this weaving technique you can create your own designs of bracelets. 
Designing your own pattered bracelet is simple by using the template below. For this is simple, you just print the pattern below and then color the beads to achieve the pattern you would like to make. The template is a handy guide to help you with your design and bead placement.