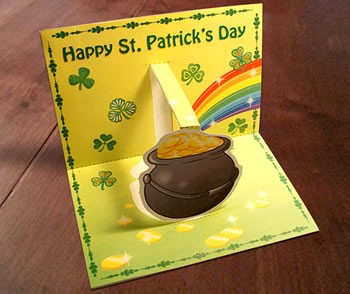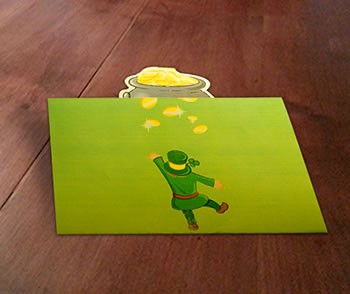 This Pot-o-Gold pop-up card is perfect to use to write to your friends and family on March 17th. This free 3D printable St. Patrick's Day greeting card is a creative and inexpensive way to wish good fortune and good luck to your friends and family on St Patrick's Day.
Supplies Need for the Pot of Gold Pop Up Card
Printer paper or Cardstock paper
Glue stick
Scissors
Time: 20 minutes
How to make this 3D St Paddy's Day greeting card
Gather your supplies: cardstock paper.glue, scissors and a pen.
Print the 3D St. Patrick's Day Pot of gold design template on card stock paper.
Cut out the pot of gold design and where it is marked by a solid line. Be sure not to cut the dotted line areas.
Glue the two sheets together with the St. Patrick's Day designs facing outward.
Fold in half.
Now write your message and you are ready to give this wonderful cards to a lucky family member or friend.