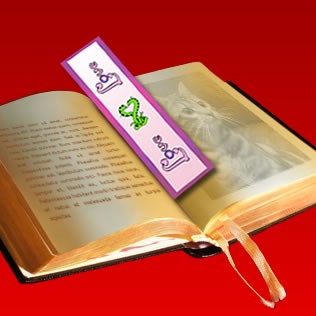 Cute Valentine Bookmarks
There is nothing like a cute Valentine bookmark to encourage you, friends and family to read! Are you looking for a unique Valentine card idea? Use these cute Valentine's bookmarks to pass out to all your friends and write a message on the back. The collection below allows you to color on line or print and color at home, color half of the bookmark or print with already colored for you. To make your bookmark more sturdier, print on card stock paper.
Try the other sweet Valentine crafts and activities on Hellokids that will be sure to please all your Valentine's this year! Learn to draw a Valentine character to make a special card or watch the easy step by step craft video to make a Valentine wreath to hang in a room or the front door. Print many of the poems you like to make a Valentine book as a special gift. Color a lovely Valentine's Day coloring page for your teacher, friend or family. Here you will find all your entertainment fun!
Bookmarks from the Heart!
These printable Valentine's Day bookmarks are a wonderful alternative to giving Valentine cards. The Valentine's Day bookmarks will encourage your Valentine to read this holiday. Prepare your printer with cardstock paper and click on the Print icon, then you are ready to color at home. These are sweet gifts for teachers, friends, classmates, family and that very special Valentine.
Semi Sweet Colored Bookmarks
On February the 14th, Valentine's day, this Valentine's idea is sure to please any Valentine and a great gift idea that encourage them to read. These printable Valentine bookmarks will need you to color part of the bookmark while other parts have been decorated for you. The Valentine's Day bookmarks are fun treats for your teachers, friends, parents, and that sweet someone. Just click to print on card stock paper and finish the coloring, cut them out and you are ready to pass out your special Valentine's.
Bookmarks of Love
If you don't have any time to make a Valentine card or Valentine craft, you can rely on Hellokids.com to help you. Encourage your Valentine's to read by giving them a Valentine bookmark. This is a perfect gift and a great way to tell your teacher, family, grandparents, friends, classmates and sweet someone that you are thinking of them on this heart felt holiday. You just need to print the Valentine's colored bookmarks sheet below and cut carefully each bookmark out, it won't take you more than 20 minutes. Print and cut out several sets of these Love day colored bookmarks and then offer them to your Valentine on February 14th. A bookmark craft as gift is also a good alternative to a Valentine card and very useful for recording the page in a reading book. Happy Valentine's Day!