Angels & Hearts string decoration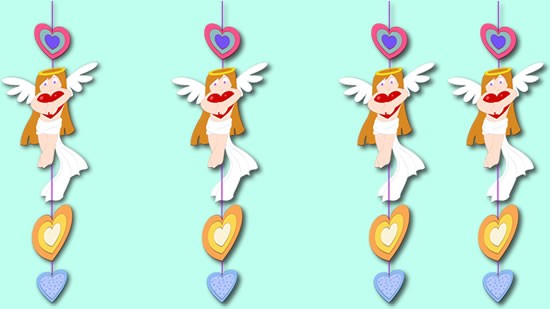 Material Need for this Angel/Cherub heart hanging decoration
Cardstock paper
String or yarn
Glue stick
Instructions for making this Valentine hanging decoration
Print each template below and cut out each design. Be sure to not cut the design apart.
Lay your pieces flat and arrange in the design you like using the cupid, angel and colorful hearts. 
When you have the order of which you would like your decoration to hang then glue the middle of each piece and lay your string down the center.
Fold the two pieces together so your hanging Valentine craft is double sided.
You have created a beautiful Angel/Cherub heart hanging decoration to display at home or to give to your Valentine sweetheart on February 14. This also makes a fun school craft to help decorate the classroom. Enjoy!