Make a Christmas paper Angel
Traditional Christmas Angels, classical symbols used during the festive Christmas season and New Year, that grace many homes. These angelic figures can decorate your table, to hang as a Christmas tree ornaments, adorn daycares with the names of each child, a school project, a church group activity or as a radiant gift to give a family member or friend to help celebrate all that is good during the holiday season.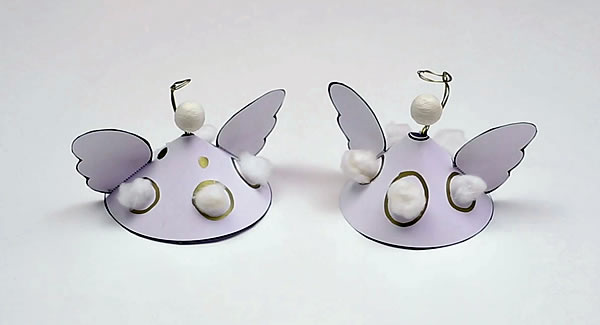 Need Materials
scissors
pen
glue
small cotton balls or pom poms
stapler
Iron wire and pliers
small styrofoam ball (for the angel head)
How to make the Christmas Angel decoration
Print the Christmas Angel template on card stock paper. Cut out the pattern of the Angel.

Draw circles, hearts or any other design you like on the angel body to place the cotton. Feel free to make other colorful designs on your angel. The diagram below shows you just one way of decorating this craft. Feel free to vary the patterns on the dresses and even on the wings, and using cotton gives an impression of softness.

Glue your small cotton balls or pom poms inside each circle or shape drawn on the body of the angel. (See diagram below)

Now it is time to glue the wings. Fold the ends of the wings at the dotted line and glue symmetrically to the Angels dress. (See picture below)

Let the wings dry. Then staple the two ends of the Angels dress together. This makes the base of your Angel. (See diagram below)

Cut a long piece of modeling wire and at one end of the wire place the small styrofoam ball. Use the other part of the wire to form the neck and halo. (see diagram below) 


Feed the wire down through the hole at the top of the Angel body base and staple. This will complete your beautiful Angel decoration.

An Angel so delightful and sweet to have decorating your home. Enjoy!