Make a Christmas tree and ornament garland
Ah! The famous Christmas garland decoration! Discover a new version of Christmas garland that will brighten up your home for the holiday season and for years to come. The Christmas Garland craft is beautiful, practical, simple and easy to make. Use the Christmas garland to decorate your fireplace, door ways, Christmas tree or walls.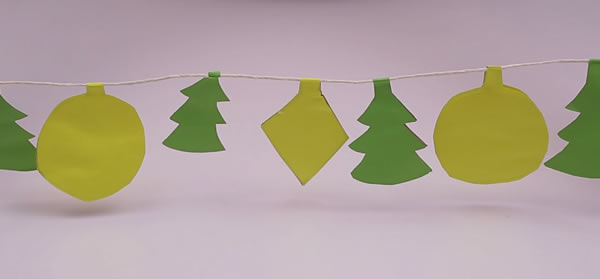 Needed Materials
2 sheets of different colored paper (card stock makes for a sturdy design)
1 pen
scissors
string
glue
tape
How to make a beautiful Christmas paper garland
Take one of your colored sheets and fold it in half vertically.
Using a pen to draw a Christmas tree or any other design you like being careful to finish your drawing at the folded edge. (see diagram below). For this design we chose the color green for trees and yellow for the ornament balls. However, use any color paper you like and or varying patterns (trees, stars, balls, hearts, gingerbread men, etc).
Repeat steps 1 and 2 of this process a second time with a different design.
Keep the paper folded and cut out the designs of each colored sheet to get the double symetric pattern.
Cut a long piece of string the length you need for your garland decoration. Attach the string on the table with tape in order to secure the string to work readily.
Slide the cut out patterns under the string and center, alternating colored patterns.
Use the glue to attach the two parts together of each design. (see diagram below)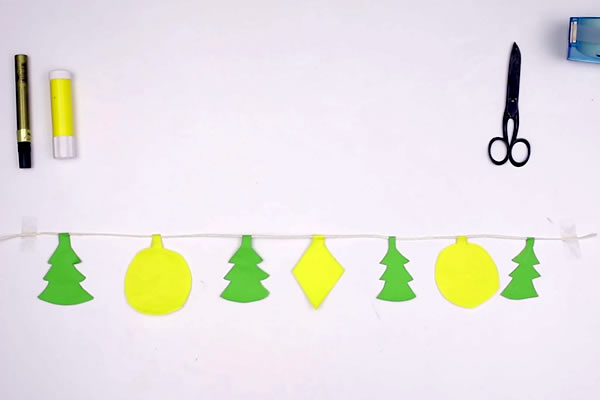 A simple paper garland craft to do at home!
Enjoy!