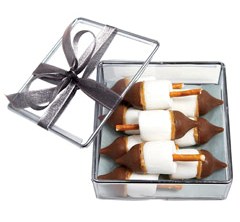 You Will Need:

• Pretzel Sticks
• Mini-chocolate Kisses
• Mini-marshmallows
• Peanut Butter or Nutella
---

How To:

1. Make a small hole in the center of the chocolate kiss.

2. Push the pretzel stick through the center of the marshmallow and fit it into the hole in the chocolate kiss.

3. If the pretzel won't keep the marshmallow well attached to the kiss, use a thin layer of nutella or peanut butter to help it stick.
HAPPY HANUKKAH!