Popsicle Stick Star of David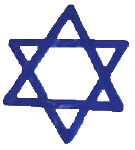 You Will Need:

• Six Popsicle Sticks
• Blue Paint
• Paintbrushes
• Silver glitter
• Glue
---

How To:

1. Paint each of the popsicle sticks blue and allow to dry completely.

2. Brush a light coat of onto a popsicle stick and sprinkle with glitter.  Repeat for each one.

3. Using three popsicle sticks, form a triangle and glue the ends together.  Repeat.

4. Overlap the triangles to form a star and glue triangles together.
HAPPY HANUKKAH