In this simple drawing lesson, learn how to draw a cute butterfly drawing.
---
You will need:
- Pencil
- Pen
- Eraser
- Paper
- Colored pencils or crayons
- Ruler (suggested)


Jeff's Tips & Ideas : Use lightly sketched pencil lines first for the structure. After, use a pen to draw in the final lines. When you're finished, erase the underlying pencil lines to reveal your drawing. Then - color it!
---
Let's start! Follow step by step our easy indications below !
STEP 1
Draw a simple framework, composed of basic shapes. Be sure to keep your penciled lines nice and light. Later, you can go over your structure with a dark, permanent pen or marker. The penciled lines will easily erase with a kneaded eraser when you're finished. Note the use of a centerline - to help maintain symmetry as you draw.
STEP 2
Add a couple triangles for wings, and lines for antennae.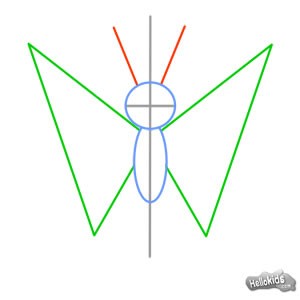 STEP 3
Draw the face.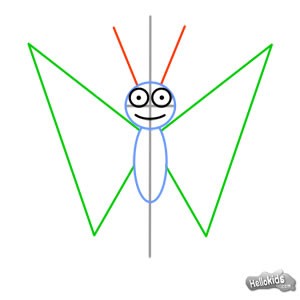 STEP 4
Add in the head and body.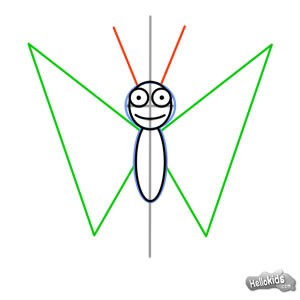 STEP 5
Continue with the antennae.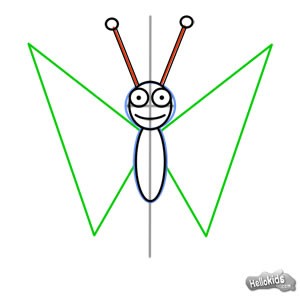 STEP 6
And finally - draw in the wings. Get creative here - there are tons of different looks that butterflly wings can take on.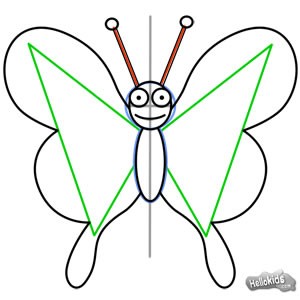 STEP 7
Here is the finished lined version.
And finally - with a little color - your cartoon butterfly looks amazing! Nice work.  :-)
---
Here is a drawing of a butterfly made by Jeff Scarterfield ! For more lessons by Jeff, check out his website at How-to-Draw-Cartoons-Online.com.

Happy Drawing! :-)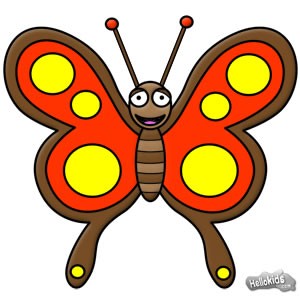 Your comments
3 vote(s) - Average rating 4.3/5
Thursday February, 18, 2016 at 10:44 AM
have videos for painting
Wednesday August, 12, 2015 at 01:19 AM
U should have videos for drawling
Sunday June, 14, 2015 at 2:57 PM
Really good tips and advice to draw a simple butterfly
View other comments