Meet the Bratz girls !
Bratz is a popular line of fashion dolls designed by Carter Bryant. Bratz girls are characterized by large heads with wide eyes, full lips, very small noses, short torsos, and shoes that can be snapped on and off. The popularity of the four primary Bratz dolls - Cloe, Sasha, Jade and Yasmin - eventually encouraged development of additional friends, spin offs, feature films, games, and music albums.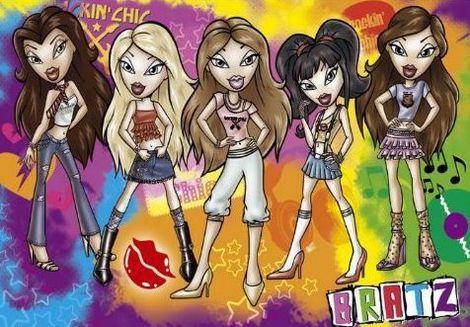 Jade - Jade's spunky, fun-loving, carefree attitude is what makes her the one in the foursome who keeps things lively. She loves fashion and sometimes puts together fashion shows for the neighborhood. She laughs at herself all the time because just like her fashion sense, she has a quirky sense of humor as well. Her favorite means of working out is to put on some cool electronic music and show off her new wave dance skills. Family is just as important to her as style and she's never too busy to hang out with her parents. Jade's unique sense of style and attitude makes her the girl everyone admires!
Yasmin - Yasmin's got a lot of strong opinions and loves to share them. She enjoys curling up with a cool autobiography about celebs she admires. She has her own blog where she updates her pals and family about what she's up to and what she's thinking about the world. You can always find her in the cafeteria, wearing something cute and telling people about the things they can do to help their towns and the world at large. Yas is your go-to girl for getting the important stuff done!

Cloe - Cloe knows she's going to be a superstar someday. She's spent countless hours imagining the speeches she'll give when she wins awards. Being a girl who's totally into sports she looks up to female athletes who've branched out and done cool things that make them superstars. Her happy-go-lucky attitude has always made her the one in the foursome who everyone turns to when they're having a bad day. You can always count on Cloe to find something fun to do and she's really good about making sure her pals are happy. Cloe's the girl everybody wants to hang out with!
Sasha - Sasha is just as glamorous as Jade, but she has a little bit more edge in her fashion sense and in her life in general. Music is Sasha's biggest passion and she tells everyone who'll listen about her plans to be a big rock and roll star. She loves to sing and can play any instrument. Her super secret love is politics. She loves to read about what goes on in the government and imagines being a Senator or even the President some day! She always says that her perfect life would be lived as a rock star politician. Sasha's the one you go to when you need a helping hand and a sweet smile!
Enjoy Bratz Doll coloring pages and wallpapers for you to enjoy from Hellokids.