Easter basket for chocolate eggs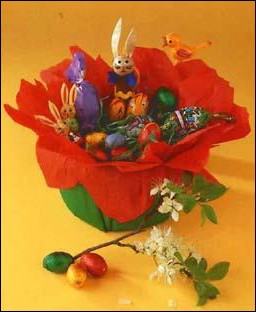 Trace around a plastic margarine-tub lid on a greeting card to make a circle. Cut out.
Cut four 1 1/2-inch slits, equal distance apart, in from the circle's edge to make four flaps. On one flap, punch a small hole on top on each side. Do the same to the flap across from it.
Thread one end of a ribbon through one hole of the first flap. Thread the other end through the hole ont the opposite flap. Tie a bow, pulling the circle up to form one side of the basket. Repeat on the other side.
Cut a handle from another card. Glue the handle inside the basket and decorate it. Fill the basket with paper grass and add goodies such as small chocolate eggs and bunnies.