Lip Art
This Crab is beachy keen! Lip painting is a fun activity to do with your friends, birthday parties, Halloween and Carnival for children.
Lip Smacking Fun!
This unique take on face-painting is all the new rage. There are so many fun designs to create a beautiful lip smacking statement. This video shows you step-by-step how easy it is to create a Crab. Before you get started there are a few basic rules to be aware of when purchasing your lip paint supplies.
Skin Friendly -  is formulated for the most sensitive skin
Quality Ingredients - is FDA approved and non-toxic
Washable - is water base paint for easy washing and clean up
Great Colors - has vibrant colors that will give you the best look you want to achieve 
Materials needed:
Paper towels
Face paint - Orange, black and white
Paint brushes - use assorted size fine quality brushes
Water in a bowl - to rinse your brushes
Mirror - to admire your fabulous designer lips
Time: 10 minutes
Level of difficulty: Easy & Fun
How to paint a Crab on a mouth
TIPS: It is important to keep the head from making any slight movements so, you may want to have the person getting their lips painted, sit in a chair and lay the back of their head on a table, lay down on a bed or couch. This will help to keep the head very still to make the Crab lip design.
Color the upper and bottom lip orange.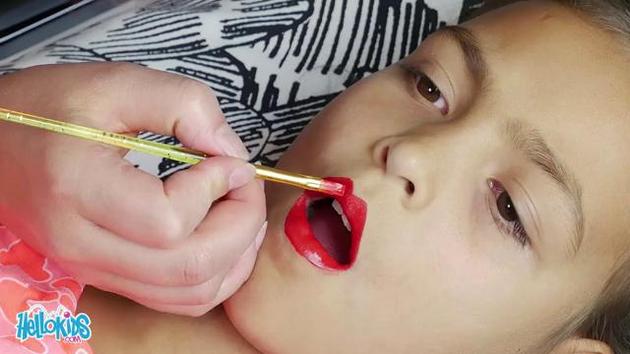 2. Now add the crab claws.
3. With black paint make two black lines on the upper lip for the eyes and white dots inside for the pupils.
4. You now have Crab designer lips!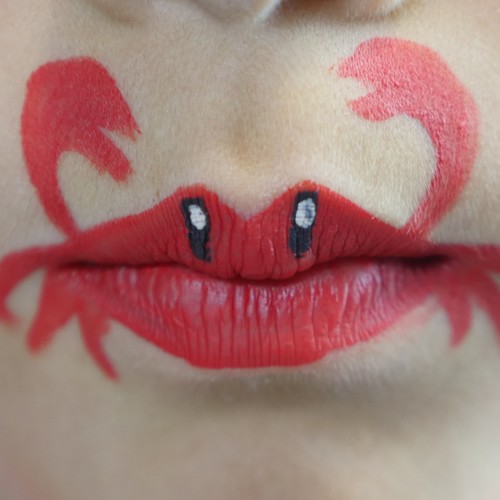 More to discover on Hellokids.com
If you like this crab check out all the crabby fun Hellokids.com and the fantastic collection of face painting for kids designs.