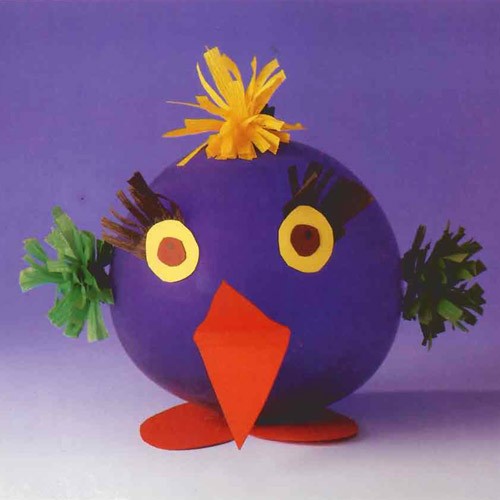 What you need: 
String
Tissue paper/Crepe paper - Green, brown and yellow
Pencil 
Cardboard drawing paper red or orange, yellow and brown
A small inflatable balloon 
Glue
Green and tan crepe paper (strips 4.5cm wide)String
How to make your bird balloon:
Here we give the basic instructions but you can add different characteristics to your bird (with a hat, hair, ears, bow tie, loops of ears, bright red cheeks, glasses ... whatever you want!). Please note: all these elements must be glued on the ball, and not drawn. Be careful not to pop your bird friend!
Print the template below to make the beak, feet and eyes. Make the beak like the illustration below.
Fold the beak on itself along the dotted line. The narrow middle band used to glue the beak on the bird.
Blowing up a balloon without too much stretch and closed it with a knot. You shall set the tail to the tip of the balloon end sticking out.
Glue the legs a bit of an angle to the closed end of the balloon. Hold the ball well and the legs together until the glue is dry.
Glue the beak.
Cut out the eyes in yellow paper and the pupils from brown paper.
For eyelashes, take two pieces of brown crepe paper 2 inches long.
Glue the eyelashes to the backside of the eyes.
Glue their eyes on the balloon.
For the tail, take a strip of crepe paper 2 inches wide and 6 inches long. Fringe this band in the same way as the eyelashes and secure with the string.
Clip this tuft to the Balloon end. The fringes should be facing outward. The tail of the bird is finished!
For Tuft, prepares a strip of crepe paper as described in step 10 by flattening the uncut side and glue on the surface of the bird's head (maintain it well!).