Halloween is Full of Monstober Excitement
You'll find no tricks here, just a lot of Ideas for a fantastic Halloween celebration on Hellokids.com. Discover our ghostly collection of Halloween coloring pages, Halloween drawings and Halloween activities for the best Halloween Party ever. Get started!
Get in the Halloween Spirit
You will find out how to create Halloween decorations and displays with step-by-step instructions and full-color photos that show you how to transform your own home into a Halloween haunt. You will have a spooky-good-time making these fun and easy Halloween crafts for kids: Little Ghosts, The Mobile of Terror ...Here you will find everything you need to know to throw your own monsterific Halloween party! Discover Halloween costume ideas to make of a witch, scarecrow, ghost, devil and pumpkin. These designs make fantastic and truly frightening Halloween costumes. Download Halloween writing papers and Halloween Party invitations. Print the invitations and color to hand deliver to your friends for a fun Halloween party. You can also create your own personal messages with Halloween spooky looking letters of the alphabeth.
Ghoulish Games
You will have a frighteningly good time playing Halloween games with Hellokids.com! Get some Halloween Party Game ideas here : Halloween Mummy Wrap, Telling scary stories or Halloween Pumpkin Golf.
Spooktacular Recipes
The Halloween ghosts and monsters are out tonight! Feed those hungry spirits with homemade Halloween stuff. Find out our collection of Halloween recipes that are fun-to-make and fun-to-eat: Easy Pumpkin Cheesecake, Caramel Corn or Bloody Popcorn!
Creepy Coloring Pages
Do you love to color? Here's a nice selection of Halloween coloring pages for you to print as many times as you like! Discover Halloween coloring pages of monsters, witches, phantoms, ghosts, bats, vampires, dracula, Frankenstein, pumpkins, haunted castles, skulls and skeletons to print out and color. You can also color your spooky designs online with the interactive coloring machine and save to your computer. So, start celebrating Halloween now with these great Halloween coloring pages!
Howling Halloween Illustrations
Check out our fantastic collection of Halloween drawings for kids.
Halloween Facts and Information
Do you want to learn more about this fun nights of dressing up and trick or treating? Here you can learn more about the Real origins of Halloween, how it all started, the origins of trick-or-treating and reasons behind some of the symbols of the season. You will be fascinated by customs and traditions of Halloween. You can impress your friends with the Origins of the Jack O'Lantern.
Tantalizing Tales and Stories
Click here to find out our Halloween Tales and the funniest jokes for your Halloween Party.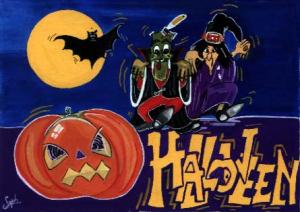 Enjoy this month of monstober with ghoulish activities, Halloween videos and fall fun from Hellokids.