This workshop will show you how to make a nice Plasticine snake. We used "The Coil" Play-Doh box in the video, with which you can do much more than a snake!
Box Contents "The Coil"
2 pots of Play-Doh (yellow and blue)
1 machine coils with 3 mold
2 sticks forms for coil machine
1 Play-Doh knife
How to make a dough snake modeling
Rolls a dough strand of clay.
Use the Play-Doh coil machine to make the stripes on the snake.
Cut small pieces to place them on the body of the snake.
With the Play-Doh knife, make the mouth.
Add two small pieces of dough for the eyes.
Again use "The Coil" .
Take two small pieces to make the forked tongue of the snake.
And here's the result !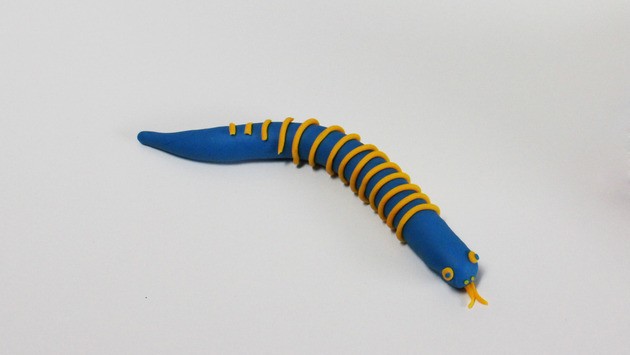 Some advice
Do not go too fast when you make coils.
When you roll the dough to make the long snake body with your hands, use your palm instead of your fingers.