This tutorial will show you how to make your own Minions from the movie "Despicable Me"! Read the steps carefuly, watch the video, and you will soon have an army of Minions of your own.
Necessary materials
3 or 4 yellow balloons
1 blue ballon
Flour
An empty bottle
A funnel
Scissors
White out or white paint pen
Black Sharpie felt-tip pen
How to make these minions:
Using the funnel, pour flour into the empty bottle.
Ask an adult to inflate a yellow ballon, and to hang it on the opening of the bottle.
Now you can pour the flour from the bottle into the balloon. You need to fill it enough but not too much.
Ask the adult to remove the balloon from the bottle carefuly.
Let the air escape from the balloon very slowly until there is just flour left in it.
Knead the balloon to make sure there's no more air in it.
Cut the tip of the balloon.
Cut the tip of another yellow balloon, stick in over the balloon filled with flour so that the flour cannot spill out. You can ask an adult to help you with that.
To make sure the ball is strong enough, you can stick one or two more balloons over it.
Now, you've got to make the dungarees of the Minion. To do so, refer to the picture underneath.
Cut two bent notches on both sides of the blue balloon. Cut off the tip again.
Stick it onto the yellow ball by stretching it a little.
You can stick the inside a little with glue.
To draw the minion, begin by making a big circle with the white out on the yellow part.
Surround the white dot with black, and make a black point in the inside.
On the dungarees, draw two dots on both sides of the eye.
Draw a semicircle for the small pocket at the front, between the two dots.
Make six small curved lines on top of the ball to make the hair, and a small circle under the eye for the mouth.
Draw two thick lines on both sides of the eye to finish the glasses.
There you are! You've got a Minion.
You can make another tall one by kneading the ball into a sort of sausage, by drawing two eyes instead of one, and by giving it a big smile. 
You can also make others characters, such as a little pig like in the video, by using pink balloons.
The flour inside the balloon keeps the shape you give it, and so you can make whatever you want with these art balls.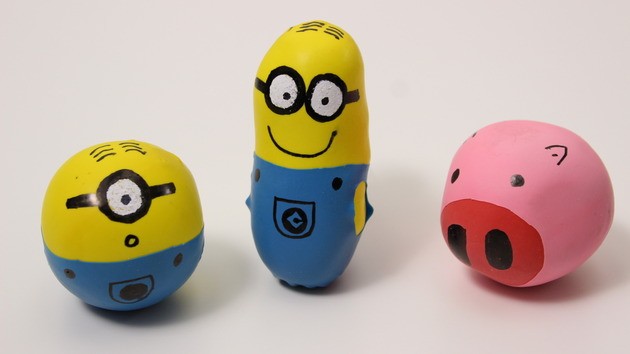 Your comments
1 vote(s) - Average rating 5/5
Friday June, 26, 2015 at 5:38 PM
the crafts are so so cute! I really love them.
View other comments