Leaf Art
You can have fun picking up leaves at different times of the year and create artwork that represents each season. If you do it for each season, you will get four very different compositions, because the leaves are changing in shape and color throughout the year! 
Color Changes: 
Trees make their food from the green color of their leaves, called "chlorophyll." In summer they store this food. But in the fall chlorophyll is not necessary, then the leaves begin to change colors: red, brown, gold and orange. 
Winter leaves:
In winter there is almost no leaves in the trees. Only the skeletons of leaves (stems and leaf veins) stay, persistent leaves and pine needles. You can also find Holly.
Examples of leaf designs: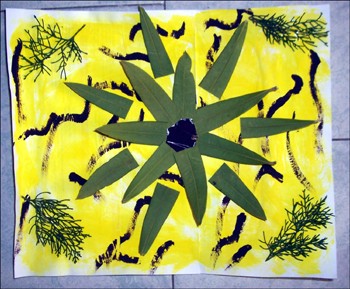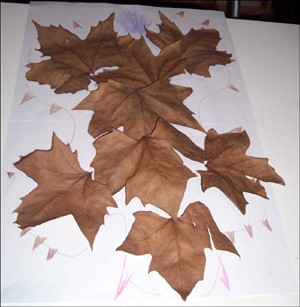 What you need
Flat table space
Paper you will use for your background
Paint & brushes
Leaves
Glue or double sided tape
Instructions
As you walk pick up leaves and divide them by shape and color. 
Arrange the leaves on colored paper or paper you will paint to obtain a nice composition. You could even place the leaves in the shape of an animal!
Paint your background of your base paper if your design needs one.
Once you have decided what would be the arrangement of the leaves, take them one by one and put a dot of glue to hold them on paper.
You could even buy a large picture frame for your art work so that you can place on the wall of your bedroom. Do not forget to sign and date your masterpiece.
There you just have to wait until next season to hunt for leaves again to express your earthly artistic talents!