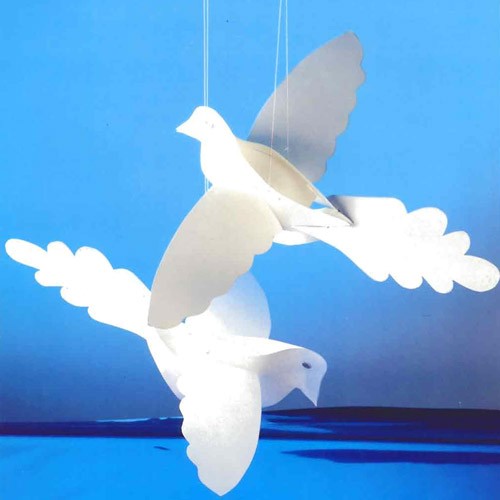 Materials Needed to Make the Paper Doves:
White cardstock paper  
Pencil 
Tracing paper 
Scissors 
Glue stick 
String 
Needle
How to make these beautiful paper birds:
Hanging from the ceiling of the room, the doves will move slowly. Make two or three for an even more vibrant effect.
Draw the body of the seagull on the drawing paper, as shown in the illustration below. 
Cut out two. With sharp scissors, cut slits in the locations of the body.
Then draws the wings of the dove, as shown in the illustration below, so that they fit into the slots. Place wings inside outwardly through the two slots of the body. The fluted side of the wings must be turned backwards.
Fold the two parts of the body upright and flap them as much as possible inwards. 
Glue both sides of the head assembly and fit in the notches in line with each other.
With a pencil or pen draw the eyes on each side of the head.
There you just have to hang your dove: a string going through the two landmarks made on the back of the bird and tie the two ends to the desired height. And that's it!