Paper Christmas Tree Decoration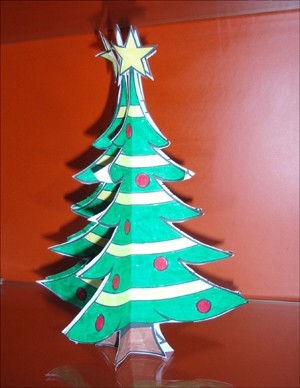 Materials Necessary
4 Pieces of white Cardstock paper 
Markers and crayons 
Scissors 
Glue
How to make a three dimensional Christmas Tree:
Among the Christmas tree choices at the bottom of the page, chose-one. Some are already colored for you or you can choose the tree template you can color yourself. 
Print 4 copies of the model tree you have chosen on cardstock paper. 
Decorate your tree with your magical Christmas colors if you chose the uncolored template. 
Cut out the four Christmas trees with scissors. 
For each tree, fold along the black line that is in the middle of the drawing. You can now assemble the 4 parts of the tree to make it look 3 dimensional. 
Put glue on the back of one side of the tree and glue to half of the tree of the other sheet until all sides are glued together.  
Once the glue is dry, your tree can be placed on a table or shelf for a beautiful Christmas decoration!