Advent Calendar of Surprises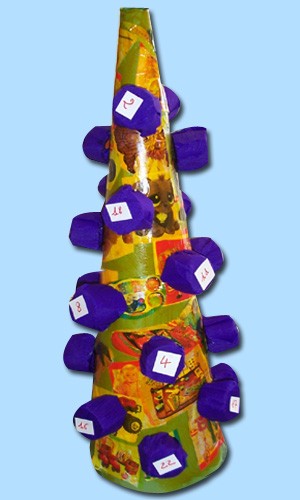 A little gift a day will surely help your children to wait until Christmas Eve! The biggest challenge will now be to make them wait until the next day to discover the next surprise of their new calendar!
Materials Needed:
A 26 x 20 inch sheet of cardboard paper 
Magazines images of toy or Christmas wrapping paper
Scissors 
Tape 
Glue stick and gel 
Stained glass paint (clear) 
Brush 
Tissue paper 
Toilet paper roll tube 
Paper 
Colored pen
How to make a surprise advent calendar:
Folding the cardboard sheet large to a cone shape. 
Secure with a piece of tape. 
Trim the edges to make it level at the top and bottom of cone. 
Cut out pictures of toys in magazines.
Glue the picture on the cone with your glue stick. You can also just use fun Christmas wrapping paper.
Paint over the cone with the clear stained glass paint. (optional)
Allow to dry
Cut each roll of toilet paper into 3 small rolls. (24 in total) 
Top each roll of tissue paper, by folding the paper inside to one side to leave an opening 
Slide a little surprise in each small package.
Glue each mini roll around the cone 
Cut 24 small pieces of paper and write the number on it from 1 to 24
Gently paste a number on each small package attached to the tree.