The City - Desk Utensil Holders
What's better than a tidy desk either at home or at work? With this craft, you will be able to create a very nice decorative accessory for your desk and also is quite handy for storing pens, brushes, rulers and other school or office supplies. 
The City - Office organizer is a great way to start the school year or keep you working efficiently at the office throughout the year! The City organizer is easily assebled by cardboard to create office and school supply holders which represent miniature city buildings.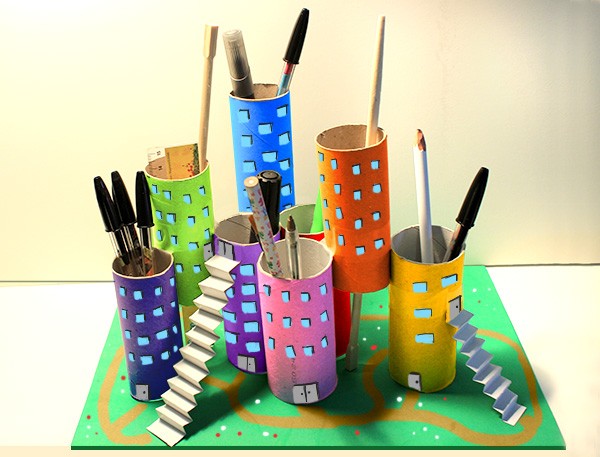 Materials Needed:
Empty toilet paper or paper towel rolls
Stapler 
Scotch Tape 
Tubes of paint in different colors 
Paint Brushes 
Scissors 
Foam cut in a rectangle (green, gray or brown)
Poster board or Card stock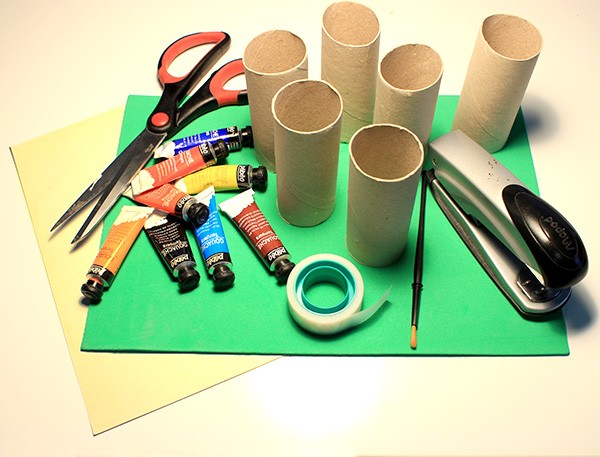 Directions for making - The City:
Start by painting the cardboard rolls. Each roll will represent a building. So, you can paint the buidings gray for a realistic city or any bright color for a fun city. Here, we chose to make a colorful city, using a different color for each building. 
Once all the paper rolls completely dry, you can begin to assemble The City. For the paper rolls that touch the ground, staple them together from the inside. For those paper rolls that represent skyscrapers uses tape. you can put an extra layer of paint over the tape if you desire. Put your foam square or rectangle piece on a flat surface depicting the ground.


Proceed making your city in this manner for all the painted paper rolls you have and the layout of the city you want to create.
With the posterboard or card stock paper, cut long strips about 12 inches long and 1 inch wide, and accordion fold the strip. Then glue them on the side of some of your city buildings to form stairs.

You will now draw windows on your buildings. To do this, paint with a fine small light blue rectangles on each brush roll. To give your windows a realistic look, you can outline two sides with a black marker, it will give an impression of thickness. 
Do the same for the doors using gray paint and locate them in consistent locations (ground floor and doors up the stairs). You will now fill in the building windows using small light blue rectangles on each paper roll. 
On the foam paper, paint the paths that connect the various building doors to one another. You can also add colored dots to represent flowers in the grass. 
All you have to do now is put all your pens and other supplies inside the paper roll buildings and you have created a magnificent structure for your desk at home or in the office!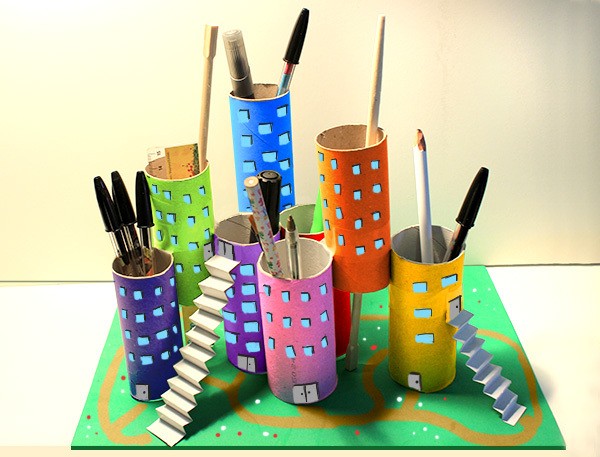 You can of course add as much detail as you want, such as cracks in buildings, pedestrian crossings on the floor, curtains on the windows, etc. By cutting out the locations of doors, you can even open them for even more tangibility.
The City craft project is a fun idea for back to school or a perfect Father's Day gift! Discover for Fun kids crafts on Hellokids.com.
Your comments
2 vote(s) - Average rating 4/5
Thursday July, 02, 2015 at 01:59 AM
every craft is hard
Thursday September, 25, 2014 at 3:00 PM
Perfact
View other comments