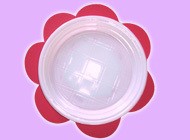 These Flower party plates are a great addition to serving your party food. Weather you are having a fairy party or your birthday is in the spring. The flower party paper craft is easy and fun to make for your party.
Materials Needed:
Paper plates or plastic plates
Colored cardboard paper
Scissors
A pencil
Glue
Glitter
How to make the Flower paper plate craft:
Turn colored cardboard paper upside down and trace your plate. Then make the flower petals. The flower petals will show just above the edge of the outside rim of the plate.
Cut the flower out. This will serve as your template for the other plates.
Lay the template on the colored cardboard paper.
Draw the outline with a pencil.
Repeat for the amount of plates you need for your party.
Cut all flowers out.
Take your paper or plastic plate and glue the bottom of the plate to the center of the paper flower cut out.
It should now resemble a flower.
Decorate the petals with glitter and even add names to personalize each plate.
Allow to dry, then place the dish in the place .
You are now ready to serve your birthday party food on these wonderfully decorated paper flower plates. Enjoy!