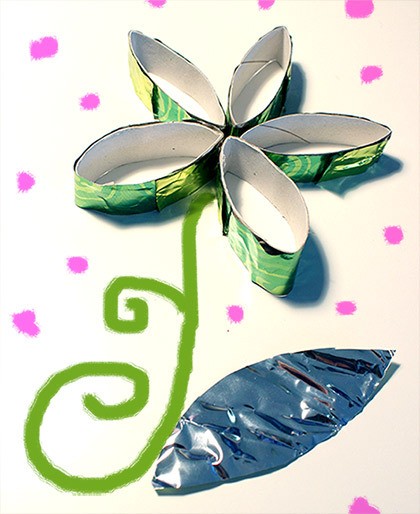 Materials Needed:
A glossy sheet of colored paper 
Pieces of metalic paper
An empty roll of toilet paper or paper towel 
Scissors 
Glue 
Pens or Paints 
Cardstock Paper for the bottom sheet
How to make a beautiful flower card for any occasion!
Begins by taking the paper roll and sheet of metalic colored paper.


With the metalic sheet of paper, cut a rectangle the same width and heighth of the roll. Then add glue to the paper to glue to the paper roll.

Flattened the metalic covered paper roll so you can easily cut into slices.


Then with every slice flatten so that it forms a flower with pointed ends. These flat slices will be the petals of the flower. Now glue each flower petal on your card so that the tops are touching.

Draw your stem in green like below. Then cut and glue a sheet of metalic paper in the shape of a leaf to attach to the bottom of the flower stem. Decorate the rest of your card as you like. But of course you can also add or decorate with other various decorative items such as: sequins, colored stickers, ribbons, stickers, etc.



And voila, you have made a great card to offer for Mother's Day or any special occasion!