How to paint your face like a cat: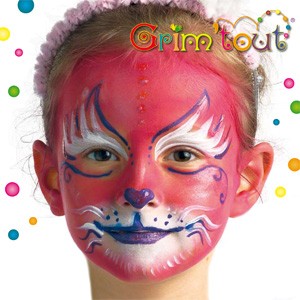 What a beautiful cat face painting design! To look like this fancy cat you will need patience and need to follow the instructions closely. However, your results will be well worth it when you complete this cat makeup design! We are certain you will be excited and you will receive many compliments! Adult supervision is advised to help acheive the success of this face painting design.
What you need:
Sponge 
Brush 
Mirror 
Water 
Glitter gel 
Makeup Pencils 
Makeup or paint palette
Instructions: 
Wet the sponge and start spreading the pink color on the face. 
Continue with the white above the eyes and around the mouth. 
Using the brush, draw white detail around the eyes and whiskers. 
With a pencil to draw up the details of the blue eyes and whiskers 
Finish by applying gloss gel on the muzzle and around the eyes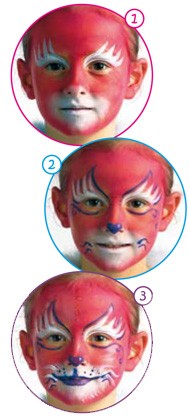 Using professional and cosmetic quality face paint is best. The products of Grim'tout offer makeup ideas for birthday, carnival and all children's parties. 
Grim'tout makeup is the perfect accessory for your makeup to easily succeed and face painting design for birthdays, carnival, Halloween, etc. Check out the box of 12 water based crayons made for this purpose!