Butterfly Face Painting Application
How to become a beautiful butterfly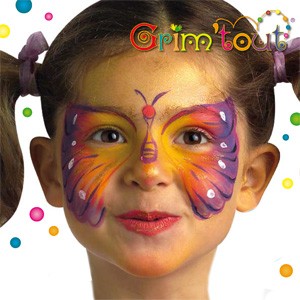 Are you dressing up for Carnival, Halloween or a party? Hellokids.com has made it easy for you to become this very popular insect with just a few easy steps. It takes a bit of patience, a lot of detail but the results are fabulous and you will become a beautiful and colorful butterfly!
Supplies needed:
Sponge
Paint brushes
Mirror
Water
Golden yellow gel
Face paint for children
Instructions:
Wet the sponge and start spreading the yellow color in the center of the face.
Rinse the sponge and continue with the pink color on the outside of the eyes.
Finish with the violet color outside the temples.
Using the brush, draw the details of the wings, head and body of the butterfly.
Finish by applying a few touches of white makeup to accent the wings.
Garnish with the rest of the golden yellow on the areas not painted.
Grim'tout makeup is the perfect accessory for face painting makeup for any occasion.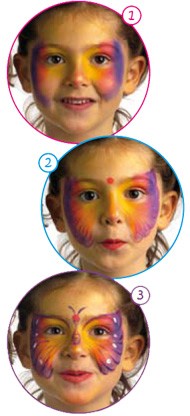 Use a water-based face paint for easy on and easy off. Grim'tout is a professional and quality product. The Grim'tout kit offers makeup ideas for birthdays, carnival, Halloween or any time fun for children.