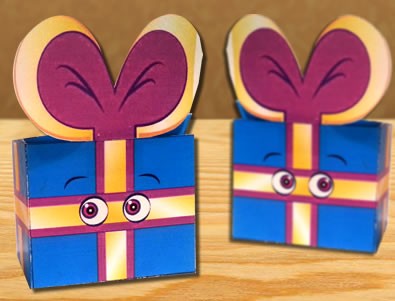 Blue Gift Box Instruction:
Print out the blue gift box. Use card stock paper for a stonger box.
Use scissors to cut out the blue gift box and the gift bow. Lay cut out, face down on flat surface.
Fold along the line directly below the blue box's face and fold away from you. Next, fold in the two sides next to the blue box face. Fold tabs A & B away from you.
Fold tabs C, D & E inward. Then fold the bottom section up.
Fold the last section inward and your blue gift box should now be taking shape. Glue the B tabs to the blank side of the bottom square. Then glue the A tabs.
Use glue at the bottom section of the blue gift bow. Glue the bow to the back of the blue gift box's face.
Your Blue gift box is ready to fill with your special treat or gift. Close the top lid by sliding the tabs inside the top of the box.