Half-fold Leprechaun Hat card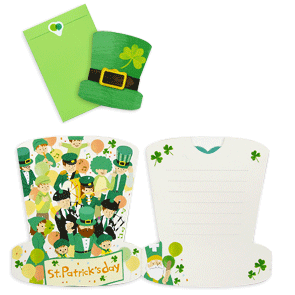 This is a Leprechaun hat card in the shape of a green hat. When you open the card, the inside has a picture of people in a St. Patrick parade and there is a space to write your message. You can insert a shamrock shaped greeting card into the message shape. You can write a message on that card too. How about sending a message on the perfect St. Patrick's Day greeting card?
Material need to make this Half-fold Leprechaun hat greeting card
Printer paper (card stock paper)
Color printer
Scissors
Glue
Time: 20 minutes
Instructions to fold the Leprechaun hat card
Cut out the parts and fold them along the fold lines on each.
Glue the back & front parts of the green hat to the inside part of the hat (Only glue the fold lines when you have)
Glue the buckle onto the belt. Glue the belt together along the buckle reference lines then glue the ends together starting from the black belt lines.
Write your St Patrick's day message on the inside hat and insert the card into the green hat.
Glue the shamrock decoration wherever you like, then fasten the hat belt.
Just wait few minutes for the glue to dry. Your
Half fold Leprechaun green hat card
is completed.