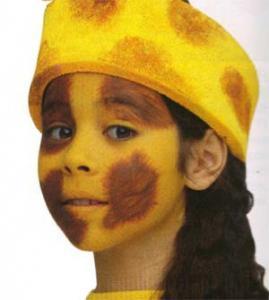 To make this makeup need GIRAFFE for girls:
Face paintings:Yellow, orange and dark brown
Makeup sponge
A thin brush
Face paint a Giraffe in 4 easy steps:
Rub a damp sponge and drained in yellow paint, and color all over your face. Let dry for 2 minutes.
Then, draw the outlines of the giraffe stains using the thin brush and brown color.

Fill the spots with brown and add a some orange.
Finally, give your skin the appearance of giraffe, make few small scratches on the stains with the brush.