We love them! Favorite Human/Animal Duos in Movies
In many films, the closest bond between man and animals is not just with a typical pet, but also with unlikely creatures, like Mr. Popper's unbreakable bond with his penguins. Here we will explore other unlikely human/animal duos in famous movies. Not only do these humans and their animals form a special friendship, but they also have fun and hilarious interactions, including dancing, flying and talking.


Mr. Popper's Penguins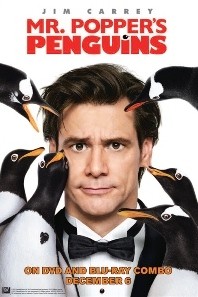 Jim Carrey (A Christmas Carol) stars in MR. POPPER'S PENGUINS.  The whole family will be full of laughs watching Mr. Popper, a driven businessman, inherit six adorable and mischievous penguins. As Mr. Popper quickly gets attached to his winged roommates, his life quickly unravels: the deal he's long been working on with a formidable socialite, Mrs. Van Gundy, is derailed and Popper almost lands in jail.  While Popper's penguins turn his swank New York apartment into a snowy winter wonderland - they teach him valuable lessons about family – human and otherwise!
The uptight businessman, Mr. Popper, is given six penguins after his father's death. He plans to give them away, until he discovers that his children love them. Popper soon grows to love the penguins as well, and after the penguins lay three eggs and only two of them hatch, Mr. Popper becomes obsessed with the un-hatched egg. When he can't save it, he gives all of the penguins to the zoo, but soon realizes that he let his children down. He then steals the penguins back and regains his children's love and respect, as well as his feathered friends. Play the Mr Popper's Penguins games

Free Willy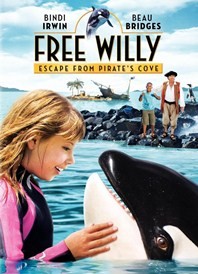 In 1993's Free Willy, 12 year-old Jesse is forced to work at a theme park as penance for vandalizing it. There, he meets and befriends Willy, a captive orca whale with a collapsed dorsal fin. Because Willy responds to Jesse's commands, he earns a long-term job at the park. Jesse eventually learns that the park's management has plans to kill Willy in order to collect the $1 million insurance policy on him. In an iconic showdown scene, Jesse guides Willy up and over a rock wall to freedom, where he returns to his family.


Dr. Doolittle
 


Eddie Murphy stars as the title character in 1998's Dr. Doolittle, a film about a doctor who realizes he has the unique ability to understand and talk to animals! Dr. Doolittle befriends a dog named Lucky (voiced by Norm Macdonald), and Lucky helps him realize his true calling as someone who was meant to bond with and help animals. With Lucky's (and many other animals') help, Dr. Doolittle is able to save a very sick tiger, which aids in bringing his family closer together and helps his medical practice.

 How to Train Your Dragon
 

2010's computer-animated film, How to Train Your Dragon, tells the story of Hiccup (voiced by Jay Baruchel), a young Viking teenager, who aspires to be a dragon slayer. After capturing his first dragon, he realizes he doesn't want to kill it and instead befriends it. Hiccup names the dragon Toothless, and fashions a prosthetic tail for him so that he can fly again. Hiccups tries to show his village the true nature of the dragons – that they are actually not cruel – and, eventually, is able to convince the Vikings and dragons to work together.


Mary Poppins
 


In the Academy Award-winning 1964 film Mary Poppins, Julie Andrews stars as the title character. This magical nanny takes charge of the Banks children, and along with her dear friend, Bert (Dick Van Dyke), takes the children on a delightful adventure through an animated park, where the group dances and gallivants with various cartoon animals (including penguins, horses, and foxes). After teaching the children and their parents some valuable lessons about family, Mary Poppins leaves the Banks' home, having changed their lives for the better.
You love animals and pets too for sure! Learn how to draw animals for kids with our fun online drawing tutorials, make your own animal bookmarks or read the pet reports for kids we have on Hellokids and have fun!