Let Them Eat Cake!

The candles are flickering.  Your friends have just begun their best rendition of "Happy Birthday".  What kind of cake would you like to see heading your way this year?  Nevermind chocolate or vanilla, think form and design.  A few morsels to whet your appetite:
---
A Personalized Sheet Cake

You've likely had a character theme sheet cake.  You know the one:  Spiderman, Dora, SpongeBob.  But, did you know that sheet cakes can be personalized by the bakery department at your local supermarket, Sam's or BJ's Club?  Just bring a favorite photographs or one of your own drawings and they can transfer it right onto a cake for you using a photo scan option.  And, if they don't, you can always ask the baker to re-create your drawing with icing.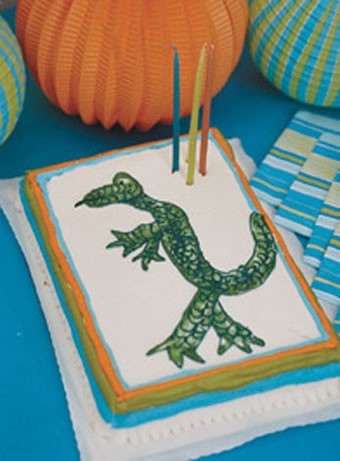 Dinosaur Sheet Cake
---
When A Cake Is Not A Cake

Cupcakes are quickly transforming the traditional sheet cake into a scrumptious tower of individual cakes that offer a bit of variety for everyone.  For interesting flavors like red velvet or mocha, look for a bakery specializing exclusively in cupcakes, like Sprinkles, or ask your local baker to create your favorite flavors.  Adorn each with a customized cupcake topper for a finishing touch.  Fun, festive, and delicious! 

To make your own cupcake toppers, visit our Activity pages.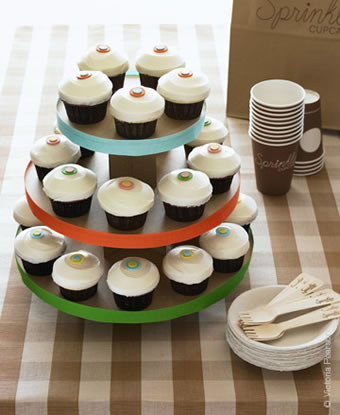 Cupcake Tower
---
A Work of Art

For a showstopper, try a sculpted cake.  Sculpted cakes can be made to look like anything you can imagine—from a circus train to a baseball cap to a castle.  This is possible in good part to fondant, a type of frosting that is either poured or rolled and then draped over the cake, giving the cake a beautiful finish and its details their texture and sheen.  These cakes are truly a work of art and, depending on what you have in mind, can actually go through a design phase, just as you would with an architect when building a house.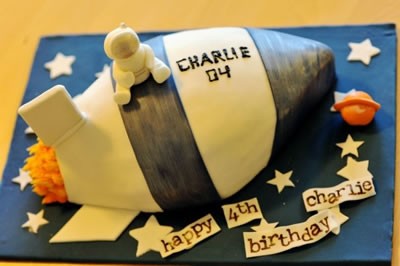 Rocket Cake
---
Quick, Before It Melts!

Not to be overlooked, the ice cream cake is also a tried and true hit.  No need to put a scoop on the side when your cake is already molded from your choice of the infamous 32 flavors!  And, if it's a hot, summer day, eat it quickly before it melts!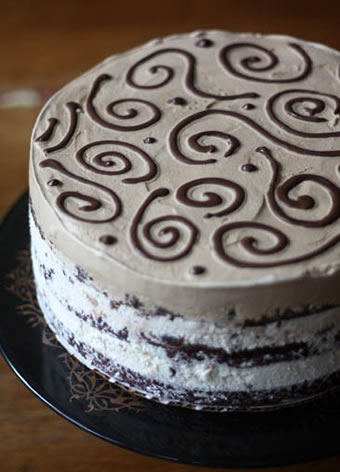 Ice Cream Cake

Happy Birthday!