If you've read our article about the Gingerbread White House, you know that making a gingerbread house is no small endeavor!  To make one of your own, you will need to plan several sessions: one to make the dough, one to create the template and base, one to roll the dough, cut the shapes and bake your house, and a final session to assemble and decorate your house.  The real reward is not only the time you spend together creating your house but in seeing your careful planning come to life!  And, of course, you can also look forward to nibbling on the candy and gingerbread, too!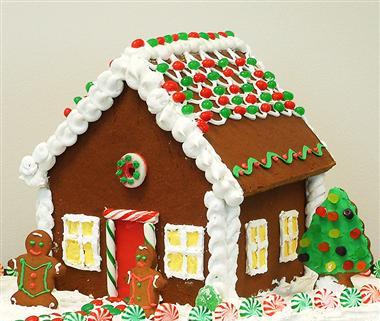 Checklist to help you plan your steps
Assemble all necessary ingredients and candy for decorating
Here are some idea for candy decorations: gumdrops, spearmint leaves, red and green M & M's, red licorice, peppermint drops, candy canes, nonpareils, red hots, Necco Wafers, mini-marshmallows, or anything else that strikes your fancy!
Make the gingerbread dough
Create a template and base
Cut out and bake the pieces for your house
Make the icing and assemble your house
Decorate your house with icing and candy
Make Gingerbread Dough
In an electric mixer, cream together:
3 sticks unsalted butter, softened
1 ½ cups brown sugar
2 eggs
In a separate bowl, sift together:
6 cups flour
½ teaspoon salt
2 teaspoons baking soda
2 tablespoons ginger
½ teaspoon ground cloves
½ teaspoon ground nutmeg
Stir dry ingredients into creamed mixture and then add:
1 cup molasses
2 tablespoons vanilla
Chill dough for two hours.  While dough is chilling, prepare your templates. 
Create Gingerbread House Template
To create a gingerbread house template, you will need a ruler and cardboard.  Cardboard is helpful because it's almost as thick as the gingerbread house itself will be and you can create a house model easily.  You will need three templates: roof, front/back, and side.  Using your ruler, measure and draw a 6/12" x 7" rectangle on your cardboard.  Cut this out using scissors or an Exacto knife.  This will be the template for your roof.  Again, with your ruler, measure and draw a 3" x 5" rectangle.  This will be the template for the front and back of your house.  Lastly, measure and draw the template for the sides of your house.  The side is a rectangle with a triangle on top.  The measurements for the rectangular part of the side are 5 ½" wide by 3" high and the triangle should be an additional 4 ½" high, making the total height of the side 7 ½".  See the links to templates below.
Create Gingerbread House Base
To make a base for your house, cut a 8" x 12" piece of cardboard and cover it with aluminum foil.  You will assemble your gingerbread house on this base and can even decorate the yard by making a path that leads to the door or adding trees and a fence.
 
Cut and Bake the Gingerbread House
Once the dough is set and your template is cut, you are ready to bake the pieces of your house.  Once chilled, allow the dough to rest at room temperature for 20 minutes before you begin to roll out your dough. 

Preheat oven to 375°.  Dust your work surface and rolling pin with flour.  Divide the dough in half and work with one half at a time.  Carefully roll out the dough to ¼" thick, checking to make sure the dough is not sticking to the rolling pin or the work surface.  If it begins to stick, dust the surface or pin again with flour.  When you are ready to cut, rub a bit of flour over the gingerbread and lay down your template. Remember to cut 2 roof templates, 2 side templates and 2 front/back templates.  You should have 6 pieces for your house.  Use a pizza cutter or knife to cut around the template.  Using a large spatula, transfer each piece onto a greased cookie sheet.  If you would like to add a door or windows, do so now.  Bake the large pieces for 11-13 minutes and the small pieces for 6-8 minutes.  Remove from the oven and cool for 15 minutes before transferring to racks to cool completely.
Make Royal Icing
Royal icing is the glue that holds the gingerbread pieces together and affixes your candy decorations onto the house itself. 

Ingredients:
2 large egg whites
2 2/3 cups powdered sugar, divided
To make your icing, whisk together the egg whites with 1 1/3 cup powdered sugar in the bowl of an electric mixer.  Add the remaining 1 1/3 cup powdered sugar and beat on high speed until the icing forms stiff peaks.  You may need to add a bit more powdered sugar if stiff peaks don't form.  When you are ready to assemble and decorate your house, fill a pastry bag with the icing.  If you do not have a pastry bag, simply cut the tip of the corner off of a Ziploc bag to make your own.
Assemble and Decorate the Gingerbread House
Begin with one side and one front/back piece and pipe icing along the short side of the side piece.  Press the side of the front/back piece against the iced side piece and hold in place for a few minutes until the icing has partially set.  Repeat for the remaining three corners until the base of your house is complete.  Allow the icing to dry for at least 45 minutes before you add the roof.  Be patient!  If you attempt to put the roof on sooner, your house will collapse.
To add the roof, pipe icing along the top edge of the front piece and the corresponding edges of one side and place one half of the roof.  Hold in place for a few minutes until icing has partially set.  When you can remove your hands without the roof sliding off, you are ready to place the other half of the roof.  Pipe icing on the remaining four sides—top edge of the back piece, edges of the sides and seam along the top of the roof—and place the other half of the roof.  Again, hold in place until partially set.
Allow the icing to dry for at least an hour before you begin decorating.
When you are ready to decorate your house, simply pipe icing onto your house where you would like to glue your candy in place and let your imagination go!
Make decorative patterns with your candy on the roof, front and back, and sides.
You did it!!  Make sure you take a few pictures before you nibble away!!