Becoming A Wilderness Explorers: What YOU Need To Know
Disney/Pixar's newest animated adventure, UP, follows the uplifting tale of 78-year-old balloon salesman Carl Fredricksen, who finally fulfills his lifelong dream of a great adventure when he ties thousands of balloons to his house and flies away to the wilds of South America. But all too late he discovers that his biggest nightmare has come along on the trip: an always willing to help, overly optimistic 8-year-old Wilderness Explorer named Russell.
Not all of us may get the amazing opportunity to travel to South America and explore its strange, exotic and surprising characters, like Carl and Russell do in UP, but like Russell, you too can be a 'Wilderness Explorer', or, as an adult be part of such an organisation.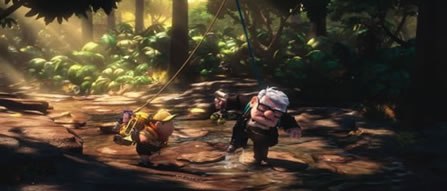 The idea behind UP
volunteer youth organizations goes all the way back 1907, when highly respected British Army officer Sir Robert S. S. Baden-Powell founded the scouting movement based on his book Scouting for Boys. The book and program proved to have universal appeal for children and quickly spread worldwide. Wilderness exploring became a popular voluntary youth movement, and though it may go by different names around the globe, be it Boy Scouts in the US or Pioneers in Russia, the essence of the program is to encourage young boys and girls to engage with one another, broaden their general knowledge and have fun! 
Activities
However, whilst being fun, wilderness exploring is widely believed to instill character, citizenship, personal fitness, and leadership in boys and girls through a structured program of outdoor activities. Common ways to implement wilderness exploring include spending time together in small groups with shared experiences, emphasizing good citizenship and decision-making. Cultivating love and appreciation of the outdoors and outdoor activities are key elements, and primary activities include camping, woodcraft, first aid, aquatics, hiking, backpacking, and sports. And of course, one activity which stands behind Carl and Russell's adventure through South America, assisting the elderly.
Naturally, it would be no fun to do the same thing over and over again, so often youth organizations have hierarchical structure, which allows children to have goals they need to work for. Commonly used are the merit badges, of which the more you have, the higher up you are in the organization. For example the American Boy Scouts organization currently has 114 merit badges which you receive for learning about things such as safety, space exploration and even journalism. 
Russell has many Wilderness Explorer badges, including First Aid, Second Aid, Zoology and Master of Disguise. He's just one Assisting-the-Elderly badge shy of achieving the goal of his lifetime: the coveted rank of Senior Wilderness Explorer. The creative team behind the film had some fun designing the badges, with the favorite being Russell's badge for skills in 2D animation.
Survival Skills
2D animation my not be the most essential skill for survival, although in the scout movement there is a badge for being an Arts Enthusiast. So, hellokids.com is here to provide you with some basic survival tips, to get you on your way to earning that first wilderness explorer badge.
Build a Fire
This is one of the most important tasks when dealing with survival in the wilderness. A fire should be built in a sandy or rocky area or near a supply of sand and water so as to avoid forest fires. The most common mistakes made by those attempting to build a fire are; choosing poor tinder, failing to shield precious matches from the wind and smothering the flames with too-large pieces of fuel. The four most important factors when starting a fire are spark - tinder - fuel - oxygen. To create a spark you can use matches, a cigarette lighter, flint against steel, electric spark from a battery, or sun rays through a magnifying glass.
Build a Shelter
A small shelter which is insulated from the bottom up, protected from wind and snow and contains a fire, is extremely important for wilderness survival. Before building your shelter, be sure that the surrounding area provides materials needed to build a good fire, a good water source and shelter from the wind. If you don't know how to build a shelter, natural ones can be used, such as caves and overhanging cliffs or a pit under a fallen tree which can be further enlarged.
Clothing
It is important that your clothes provide warmth and offer protection from the elements. Layers of light, natural fibers are best. Hats are also good, as they offer protection from both the heat and cold. Waterproof outer layers are a necessity.  
Equipment
Wilderness explorer equipment should be easily manageable and promote survival in any situation. Items to carry in your pockets could include a fire starter, waterproof matches and/or lighter, pocket knife, goggles, compass, small first-aid kit and some sort of foodstuff. For a more modern touch, a GPS device may also be a good idea!
Adventure here I come!
If you feel ready and want to receive your badge, get in touch with your local wilderness youth organization to develop those skills further. For more adventure inspiration however, and to find out if Russell ever earns that Assisting-the-Elderly badge, be sure to check out UP on the big screen.

As Russell would say – The wilderness must be explored!