As the London Olympics are just around the corner, check out the big collection of Olympics coloring pages. Welcome to the Summer Olympic Games Coloring pages. Find out coloring pages of the most popular sports to be contested at these Olympìc Games. As you know, Olympic Games comes once every 4 years and all the kids of the world love to color the olympic disciplines and sportmen and women. In the Hellokids' olympics coloring pages channel you will find Olympic Games coloring pages of mascots, torch and medals that are strong olympic symbols. Also check out some Olympic disciplines as athletics coloring pages, cycling, sailing, judo coloring pages, equestrian coloring pages, gymnastics coloring pages and much more amongst all the sports colouring sheets for kids we have on hellokids. Also check out coloring pages of the mascots and all the olympic symbols of Beijing 2008, the five Fuwa : Beibei, Jingjing, Huanhuan, Yingying and Nini, representing each a color of the Olympic rings. Click on the picture below to make it larger, then print it out to color. Enjoy!
have fun as well with the sports free sliding puzzles
---
---
---
olympic sport olympic games coloring games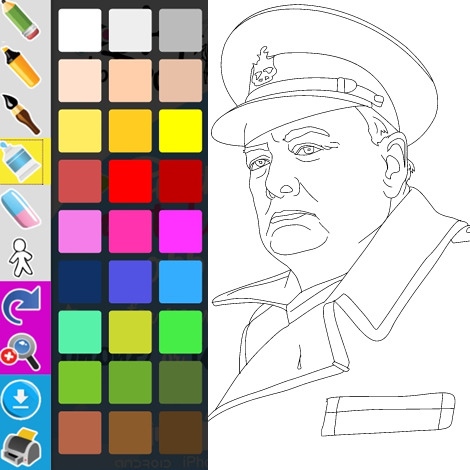 It's WINSTON CHURCHILL day today!
Do you know who was Winston Churchill ,  what is he known for and why this British is he mostly celebrated in The US on April 9th? Let's dive together into this very interesting part of The US History and celebrate April 9th on Hellokids ...
Read More ...