Bruce Wayne/Batman continues to eliminate crime in Gotham City with the help of Lieutenant Jim Gordon and District Attorney Harvey Dent. The Dark Knight wants to finally get rid of organized crime for good. Batman soon finds that a new psychopathic mastermind known as the Joker has taken over organized crime. After the fall of Carmine Falcone, the remaining crime bosses try to pick up the pieces. However, the Joker is killing them off one by one. The Joker's plan is to terrify the citizens and throw the city into chaos, and then kill Batman. The Joker is the most dangerous criminal that Batman has encountered, and he will need all his strength and vigilance to defeat him.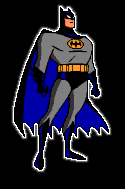 As a boy, Bruce Wayne witnessed his parents' gruesome murder by an unknown gunman and vowed revenge against all who broke the law. As a young adult, he worked to fulfill this vow by traveling the world to learn from masters of various defense disciplines. He became an exceptional escape artist, master of martial arts, acrobatics, science, technology, boxing, disguises, criminology and detective skills. Having perfected his skills, Bruce Wayne is prepared to embark on his mission.

One night, in his father's study, Bruce Wayne relives the horror of his parents' death. Suddenly, in a terrifying flash of blackness, the window is shattered by the striking image of a black bat. In that moment, Bruce Wayne's destiny is determined. He would become the night... he would become the Batman. Bound by his personal code of justice, Batman resolves to never kill an enemy. Instead, he relies on his physical prowess and mental superiority to bring his enemies to justice.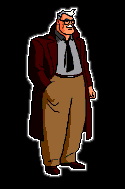 Batman trusts and confides in James Gordon. Gordon is an honored police officer and father of Barbara Gordon. Through devotion and remaining an honest cop among mass corruption, Gordon rose through the ranks to Lieutenant, and ultimately to Commissioner. Even though Gordon does not know the identity of the man under the mask, Batman and James Gordon share a special friendship. Although Gotham City embraces Batman, Gordon is still chastised for relying on the Dark Knight over those with the legal authority in Gotham.
Next to nothing is known about Batman's greatest enemy, except that he operated as an enforcer/hitman for various crime bosses before becoming the "Clown Prince of Crime." The Joker first encountered Batman during a botched robbery at the Ace Chemical Factory. He escaped by leaping into a drainage vat of chemical waste, but later discovered the toxins bleached his skin chalk white, dyed his hair fluorescent green, and stretched his lips into a hideous, permanent red grin.

The Joker's methods are simple: gain pleasure in breaking every law and moral stature known to man. More importantly, he makes the crime funnier by playing a game of cat and mouse with Batman. Joker views every crime, infliction of pain, and murder as the ultimate joke. Joker's trademarks are his razor sharp playing cards and the laughing gas Smilex.