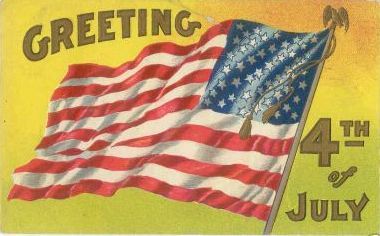 Most people in the United States celebrate the 4th of July,
but do you know exactly why is this holiday so important?

Imagine how you would feel if someone older than you kept telling you what to do all of the time and kept taking more and more of your allowance. That is how the colonists felt in the years leading up to 1776. Great Britain kept trying to make them follow more rules and pay higher taxes. So colonists began making plans to be able to make their own rules. They no longer wanted British crown to be able to tell them what to do, so they decided to tell Great Britain that they were becoming an independent country.


In the United States the Fourth of July or Independence Day is a federal holiday commemorating declaration of independence from the British Crown. The Declaration of Independence was adopted on July 4, 1776.

The July 4th celebrations often take place outdoor. They are associated with fireworks, parades, barbecues, family picnics, family gatherings, sports and games, and various other public and private events and marked by patriotic displays and decorations: streamers, balloons, and clothing colored red, white, and blue, the colors of the American flag.


Independence Day fireworks are often accompanied by patriotic songs such as the United States national anthem The Star-Spangled Banner, God Bless America, Yankee Doodle, America the Beautiful, This Land Is Your Land, Stars and Stripes Forever or Dixie.

We invite all nations to celebrate with Americans this Fourth of July.
Click here to learn about the history of the United States Flag.
Click here to find out the lyrics of The Star Spangled Banner.
Check out our unique collection of the 4th of July coloring book pages. Click to print and enjoy!
Find out all you favorite coloring pages on hellokids.com.
"Hallowed be the day, forever bright its memory in the heart of the Nation.
Sing to it, poets;
shout to it, freemen;
celebrate it with bonfires, parades, and triumphant assemblies"
(Daily Alta California, 4 July 1855).
Happy Birthday, America!