Celebrate the contributions of the United States Army, the Navy, the Air Force, the Marines and the Coast Guard during war and peace on May 16, 2015.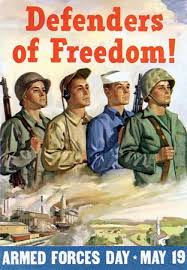 During Armed forces day you may fly your flag on your house and attend some organized events that celebrate the military service members and their importand contribution they make for us each day to keep us safe and free. Below you can find information on American flag etiquette and ideas to help you celebrate this special day.
Fly Your Flag
During Armed Forces Day, Memorial Day, Flag Day and Fourth of July you will see homes and business proudly displaying the American flag. The first official Armed Forces Day took place in 1950. By 1962 it was declared an official holiday by President John F. Kennedy. You can show your appreciation for those in the military and for those who have served in the military, display your American flag. Be sure that when you display your flag you display it properly: 
Keep your flag visible - ensure your flag is fully visible and free to wave without obstruction.
Flying your flag should only be done during suitable weather - flags designed for "all weather" can be flown during rough weather. The primary goal is to avoid aging or wearing.
Raising and lowering the flag should be done respectfully. The flag is raised quickly so as to give the impression that the flag is eager to get to the top of the pole and represent the nation. It's lowered slowly to give the impression that it's reluctant to leave its post.
Give your flag a position of importance.
For more flag rules and regulation press the link Displaying Your Flag.
Ideas to help you celebrate
Attend a local parade
Attend a military air show
Visit a military base to talk with service members
Gather friends and family to put together a package to send to military personnel overseas
Incorporate reading, writing, social studies and a craft that are focused on Armed Forces Day
Print off U.S. flag coloring pages and have children color them in
Make patriotic crafts together: Make a pinwheel, a paper star, or a wind sock in flag colors.
Make the most of this day by checking out all the fun
Flag Day
crafts and coloring pages from Hellokids and most importantly, if you know someone serving in the military be sure to thank them for their service!
Fun Facts About the American Flag
The first American flag has thirteen stars and thirteen stripes
Francis Hopkinson designed the first American Flag
June 14, 1777 approved the design of the first U.S. Flag
Star-Spangled Banner was written by Francis Scott Key
"Old Glory", "The Red, White and Blue", "Star Spangled Banner" and "Stars and Stripes" are nicknames for the American flag
The flag is nerver to be worn as clothing
In 1960 a new star was added for the state of Hawaii
The 50 white stars represent the 50 states of America and symbolize honor, achievement and hope
The 13 stripes on the American Flag Facts represent the 13 original colonies, which are known as 'Old Glory'
The biggest of all the US Flags was made in Pennsylvania and measures 505 feet wide (153.9m) x 225 feet long (68.58m) and weighs in at 3,000 pounds (1,361 Kg)