New Book - Fish Also Go To Heaven
New Children's Book - Fish Also Go To Heaven
written by Tammy Brown Elkeles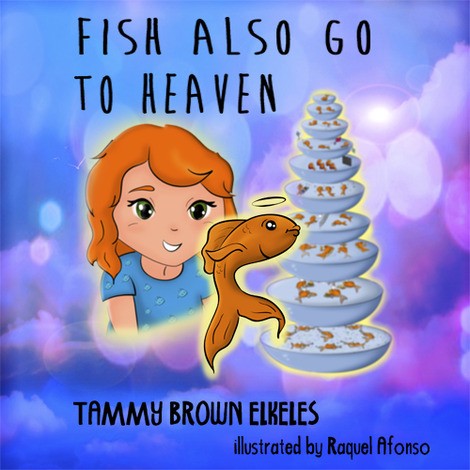 Fish Also Go To Heaven
Young Ellie loves her ginger fish. But fish do not live forever. What happens to them?
Ellie's best friend is her little goldfish. Spending every moment she can with him and telling him all her secrets. And at school she talks about him all the time as well. But one morning little "Fishie" is not moving….
Where do fish go when they die?
Like all children, Ellie loves her little pet, Fishie. Sometimes young children are confronted by the realities of life that no one lives forever, especially little fish. How will Ellie and her mother handle the situation when Fishie is not moving one morning? After trying to spare Ellie the pain and replacing Fishie by a similar fish, the new fish, after a while, jumps out of his fish bowl.
Mother must now teach Ellie about one of the most basic facts of life.
What happens to fish when they die?
Are they OK wherever they are?
Will we ever see them again?
How will Ellie handle the loss of her goldfish?
How will mother help Ellie with he loss?
"Fish Also Go To Heaven" offers kids a lesson about the facts of life and death in a unique way that will make it easy for them to handle similar loss.
This children's book is suitable for a read aloud bedtime story for preschoolers or as a self-read for older children.
Book Details
When? available on Amazon
Where? Amazon.com
Who? Learn more about this talented author in the Hellokids.com Famous People page where Hellokids had the opportunity to interview Author Tammy Brown Elkeles. This informative interview with the author will share with you when she began writing, tips on becoming an aspiring writer, her favorite authors and much more. To check out this informative interview with Tammy Brown Elkeles on Hellokids.com, click this link: Famous People and discover more reading and learning resources for your enjoyment such as other Reading lists for Grades K-5.
Tammy Brown Elkeles has her own website with more information about her other books at www.tammybrownelkeles.com.
"Fish Also Go To Heaven" Book and Kindle Fire HD Giveaway 
Book Giveaway
Click on the book giveaway this link
Fish Also Go To Heaven
to have a chance to win a free book. On May 12th you may be one of 3 luckily winners of the new book 
Fish Also Go To Heaven written by Tammy Brown Elkeles.
Kindle Fire HD
You have a chance to win a Kindle Fire HD from the Author Tammy Brown Elkeles when you write a book review. To find out more information on how to win click on this link Kindle Fire HD giveaway.
Good Luck!