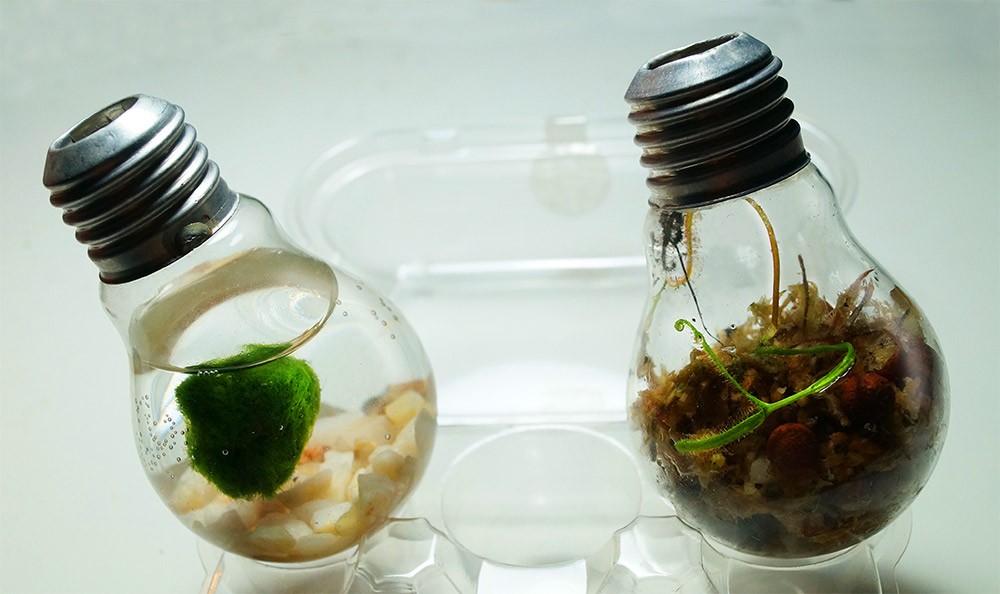 To help you enjoy your garden whether it is spring or summer, we have for you a DIY recycling project to make a garden bulb! This is to recycle the old light bulbs in your house to make miniature gardens that will make beautiful decorative items.

Please note that the removal of the bulb should be made by an adult.
Materials Needed:
Used bulbs with transparent glass
A long thin screwdriver
Pliers 
Natural elements to create a soil: sand, clay pebbles, soil, moss, aquarium gravel, beads, etc. 
A baby plant about 3cm in height (if you want to make an earthly garden) or a ball of aquatic moss, also called marimo (if you want to make a water garden)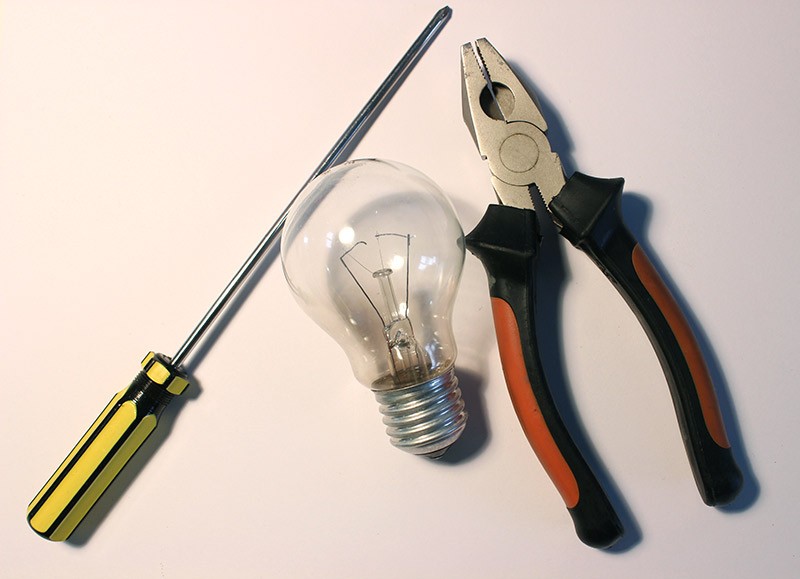 Method for making miniature gardens in light bulbs:
It all begins with used bulbs in standard size. Here we chose an old filament bulb.

Then positio upside down so as to locate the small circular metal portion below the glass :

Remove this part when using the clamp.

By inserting a screwdriver to create a hole, breaking the part of the black end :

Similarly, twist with the screwdriver to break whatever is inside the light bulb:

Turn the bulb upside down to clear all debris from the inside.

Now we have an empty bulb. Now, wash the inside of the bulb well by running water in it several times until it is clean.
If you would like to create a water garden, it's very simple, start by lining the bottom of the bulb with aquarium gravel (you can use different colors or just sand).
Then take a ball of aquatic moss and divide it to create a smaller ball that will easily fit in the bulb. You have to gently roll between your palms to make it a little round.
You can find foam aquatic balls at your closest garden center or pet store, the radius of the aquariums. Inserts it into the bulb using tweezers.

End by filling the bulb with water.
If you prefer to create an earthly garden you have to find a baby plant about 3cm high, that can easily get into the bulb. Educate yourself well about the species, so as to create a soil mix that suits it. Chose a species that likes moisture.
Depending on the species that you have chosen, make your own soil mix and put it in the bottom of the bulb. With long tweezers, make a hole in the ground.
Then taking the plant with the tweezers, insert it in the hole and planting the bulb. Warning: this is the trickiest step. If you want, you can put some beads, colored gravel or even sequins to decorate the bottom!
And now, you come to realize a real miniature alive garden! You just have to tie a piece of string around the bulb to be able to hang it wherever you want. Think of putting it in a room where there is a window, plants need natural light to live. Water from time to time your earthly garden. (Caution: Use very little water, because it can not be removed), and or leave it to the water in your water garden if the level drops due to evaporation.