World Cup Competition Schedule & Score Card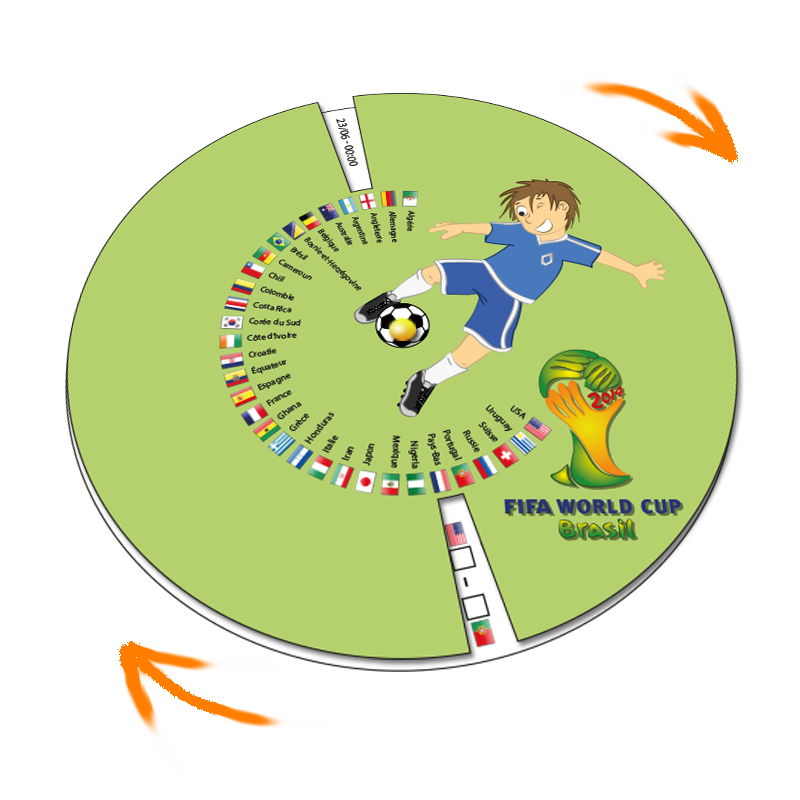 This sheet will enable you to achieve a schedule of the 2014 World Cup Soccer games, you can note all the scores of all teams and be sure not to miss any games !
Materials Needed:
Brads
4 discs (bottom of page) printed and cut (green disc must be printed in duplicate)
Glue
Cardstock Paper
Method for making your 2014 World Cup Soccer game schedule:
First, print twice the sheet with the green disc , and then print the sheet with the first white disc, and the second sheet with the white disk (at the bottom of this page).
Once the sheets are printed, each cut according to the circle shape. Attention with green disc sheet to cut the two notches on the circle.
Glue the two white discs back to back, then make a hole in the center.
Also make a hole in the center of the green discs .
Place a green disc above and another below the two white discs, and fasten together with the brad in the center.
And voila, you now have a 2014 World Cup Soccer schedule of all the games. You are ready to follow all your favorite winning teams! By turning the disc over, you'll see the show date and time associated with the match of the day.
On the side of the flag of each team, a small white square will allow you to record the score for each country once the match is over.