Reversible Christmas painting
This paper craft is an unique decoration to create for Christmas or for the New Year and display on a table or mantel to enjoy throughout the holiday season and into the New Year. The simple design shows two different seasons when viewed from either the right or the left of the picture - winter and summer.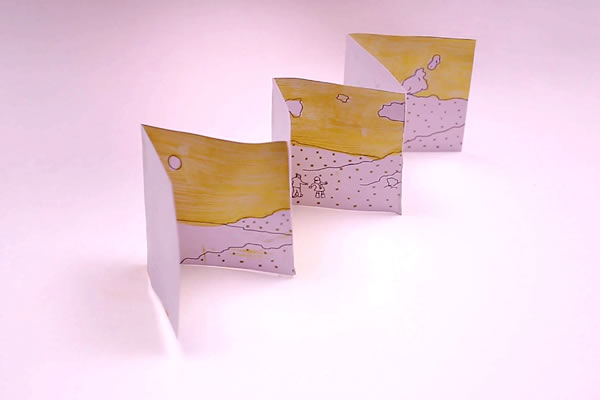 Needed Materials
Printed template pattern 
card stock paper
Paint and paint brush or markers for coloring
scissors
Tape
pencil
ruler
How to create this reversible seasonal landscape
Print the template on card stock paper for a sturdy design. Cut the pattern in half along the solid line to separate the two scenes.
Decorate the 2 seasonal scene with paint or markers. for the summer scene you paint the landscape (see below) and for the winter scene paint the sky. this will show beautiful sunny summer days in the summer scene and luminious winter nights in the winter scene.
After letting the paint dry, Use a ruler to divide the scene in three equal parts. 
You will end up with six total squares (3 from the winter scene and 3 from the summer scene).
After dividing the scenes into 3 equal parts use your scissors to cut. (see diagram below)

You will now merge the two seasons together to achieve the reversible effect. Label each square in order of the winter scene A, B, C and label the 3 squares in order of the summer scene D, E, F. Now line the squares up in an alternate order: A, D, B, E, C, F. (see diagram below)
Now you should have six squares lined up in a row with the alternate scenes in order (see above diagram). Flip each square face down in order and attach each paper square together with tape until all pieces are taped in order.
Flip over the paper seasonal landscape design and fold at the connecting points of each square like an accordion. (see diagram).
You have finished your beautiful reversible landscape paper craft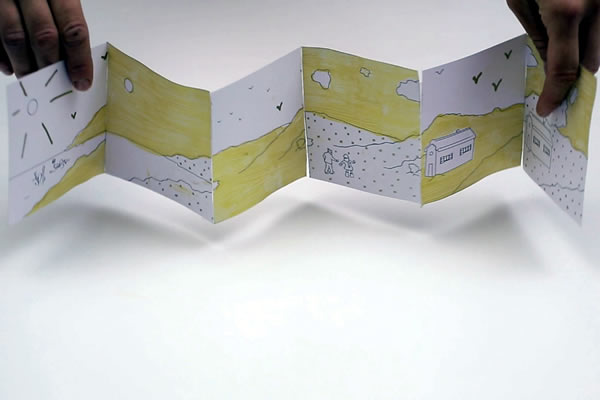 A wonderful decoration to have for the New Year. The scenes represent the change of the seasons and the triumph of spring over winter! Enjoy!
Happy New Year to all!