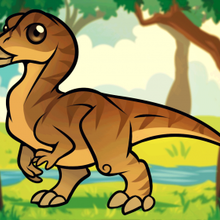 Here is a dinosaur species that I haven't made a lesson on before. It's one that is popular but we never hear things about. Up next we will learn "how to draw an iguanodon", step by step. The first remains of this dinosaur were discovered in 1822 by Gideon Mantell. From the remains researchers believe that the iguanodon was at least thirty feet long, nine feet high and weighed around five tons. The remains or fossils of this dino have been found in places like England, Germany, Belgium, Africa and even in the United States. How long ago did the iguanodon live? Roughly about one hundred thirty million years ago, which would have put this dinosaur in the Cretaceous period. Drawing an iguanodon will be easy, and fun because I made sure to keep things simple. Have fun people and stick around.....
Step 1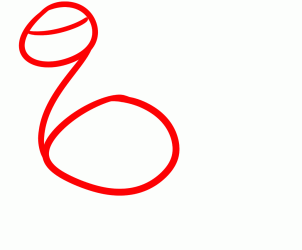 Make the shape for the head, then make a line for the neck. Attach the neck line to the egg shaped body like so.

You will find incredible drawing tutorials for kids with step-by-step explanation how to create great drawings. All how to draw tutorials on HelloKids are provided by our partner, Dragoart.com. Pets, Pokémon, fantstic beast and dragons, be sure you will find something to draw on Hellokids!